Spice it up!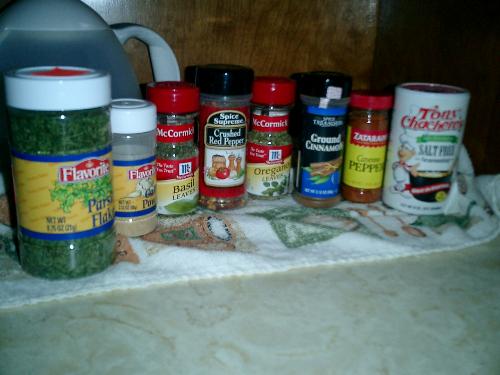 United States
July 28, 2009 7:12am CST
I just read where we can actually get a lot of antioxidants from places we wouldn't expect...spices. The article stated that 1 teaspoon of cinnamon contains as many antioxidants as 1/2 cup of blueberries! I was like, "wow!" So I went to the store and started buying up some spices. My two new favorites are oregano that I put in my eggs; and basil that I have begun adding to soups.I also add cinnamon to my morning oatmeal now. I had no idea they contained so many beneficial ingredients. What are your favorites that you "spice" things up with?
6 responses

• Canada
28 Jul 09
Wow. That's great! I had no idea that spices were so good for you. I just had oatmeal for lunch today and i put cinnamon on top of it. I always put cinnamon on top of it just cause it tastes so good but now i have an even better reason to load it on. . I really like fresh basil that i put on top of tomatoes in the summer time. I slice the tomatoes, put a little balsamic vinegar and olive oil, and then sprinkle the basil on top of every thing. It's taste so perfect!

• United States
28 Jul 09
Yep, I like the cinnamon on my oatmeal too! And I haven't tried basil on my tomatoes yet...just in soups!!Gonna try that one!

• United States
28 Jul 09
I didn't realize that cinnamon had so many antioxidants, a lot less calories too I bet. I also use a lot of herbs and spices in my cooking but didn't know how good they are for me. My favorites are basil, rosemary, chili peppers, and fresh nutmeg. I think that I may have to go make some whole wheat cinnamon toast!

• United States
28 Jul 09
I gotta get some rosemary.. haven't tried that one yet. I am still lovin' the basil on everything! It makes sense that it's good for us because it's plants... just like all other green plants....

•
28 Jul 09
Does rosemary count as spice? We grow some rosemary in our garden and quite often it is used in our roast dishes. The aroma is very tantalizing when combined with roast beef or roast pork. I sometimes steam it with fish. The smell is also delightful. A more oriental choice is spring onion. I usually chop it fine and toss with salad, or boil it in soup with chili to make spicy soup. It is essential to make chinese-style stir fry. Another oriental star is anise. Food tastes very sharp with it. I think my favourite spice is vanilla. Yes, vanilla flavour ice cream. I am never bored of it! :)

• United States
28 Jul 09
Actually, I am pretty sure that Rosemary does count as a spice. Really, all our spices are just chopped up green stuff!!! Or at least plant parts!! sounds good!!


• United States
28 Jul 09
Yes they do and I had no idea!! Gotta get some ginger.. don't know hwat it is good in though!!


• United States
28 Jul 09
I use chili powder when I make chili. I also put red peppers in lots of different foods. I will see about picking up more chilis!!! thanks!!


• United States
28 Jul 09
HMM.. I wouldn't think of putting cinnamon in soups. It seems to me to be more of a sweet food additive! And the same with nutmeg... but I'll have to pick up some cloves, my mom used to put them in roasts on sundays...