paris hilton or julia robert beautiful?

India
November 13, 2006 5:52am CST
10 responses



• India
10 Dec 06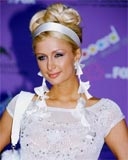 First known to the tabloids as "Paris the Heiress," Hilton went from party-hopping socialite to self-made entertainment brand early in the 21st century. She is the great-granddaughter of hotel magnate Conrad Hilton, granddaughter of Barron Hilton, grand-niece of Nicholas Conrad "Nicky" Hilton (the one-time husband of Elizabeth Taylor) and daughter of real estate magnate Rick Hilton. In 2003 Hilton starred in a fish-out-of-water "reality" show called The Simple Life on the Fox Network. The show was a takeoff on the 1960s sitcom Green Acres, with city girls Hilton and Nicole Richie (daughter of singer Lionel Richie) spending a month on a farm in Altus, Arkansas. A big hit, the show spawned sequels in 2004, 2005 and 2006. In 2004 Hilton released a book, Confessions of an Heiress, and in 2005 she appeared in the remake of the 1950s horror film classic House of Wax (also starring Elisha Cuthbert). Her first musical album, Paris, was released in 2006.





• Canada
13 Dec 06
obviously i like Julia Roberts... i dont think she is most beautiful...but she is a beautiful actress... i like ehr eevry other movie.