alert!!! yoyo dieters.........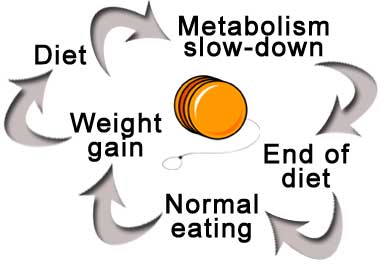 August 4, 2009 12:32pm CST
there are a lot of times that i end up yoyo dieting...i wondered what went wrong? i dont really know but when i start dieting i end up really frustrated because my goal of loosing weight is not very successful..i dont know why everytime i go on diet it seems like it takes forever to shed pounds but wen i stop dieting i end up gaining weight faster than loosing it...huhuhuhuhuhu...i am very sad about this and i dont feel that this is doing me any good...i am hoping that everyone here in my lot would givwe me feedback or any tip that could possibly help me.please help me....tell me your own insights.. have a great day ahead of you!!!!
4 responses

• Malaysia
26 Jan 12
Dear Friend I have my sympathy with you. I was in the same boat 20 years ago. But I have now managed to over come this 'yo-yo' effects. To begin with, you have to have a daily journal for the rest of your life. You have to take note of what you eat, how much you eat and how often you eat. Also record the types of exercise you do. You should monitor your weight loss closely. Should you wavier from your normal weight loss routine, you will gain weight. Work at it until you have an ideal wealth. Lock your activities and religiously follow it. Then for the rest of your life follow the regime. You would not go wrong. OK? Thanks! Bro. Joe. GBU

• Philippines
31 Jul 10
i've been there and have done that too... it really is not working...if you really want to lose some pounds.., don't skip any meals..it will not help you... and the tendency is when the time you start eating again., you will gain again the wt you have lost... try a more stable routine like exercising and eating small frequent feedings...=)

• United States
6 Aug 09
I gained extra 15 lb since i moved to US 7 years ago, i hated it because when i moved here i was already about 5 lb over weight. I ended up giving up on diets and started looking into health. basically i ended up switching to raw vegan diet as from what i found it was the healthiest way of eating. I just substitute my favourite foods with raw vegan versions (just had raw vegan meat balls with spaghetti yesterday) and surely in the past 6 month i lost all the extra lbs i had. I didn't even notice how i lost them. I went to the doctor to get my paperwork for college done and he had to weight me, he said i was 118lb. i was surprised and said no way i'm that light. so when i went to visit my mom, i checked my weight at her house (she has very accurate weights) and surelly, doctor was wrong, i al actually 115lbs lol. I lost 20lb without even realizing it and the best part is that i eat everything i want, just in a healthier way. i wrote an article about loosing weight by eating healthy, take a look, you might find some good tips there http://hubpages.com/hub/Loose-Weight-the-Healthy-Way

• United States
4 Aug 09
I watched a gentleman who was a trainer on television a few days (or maybe it was weeks) ago. He had a really challenging subject, and decided to try a different approach with this particular person. Perhaps this would help for you. He had the person only diet every other day. If the person knew he only had to go one day without the good things to eat, and that he could have it tomorrow, he thought it would work out better. And, it did. Eventually, I think he decided to diet 2 days on and 1 day off, etc. Good luck to you in your dieting. It is always a challenge for all of us, you are not alone!