Why should someone love you?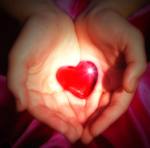 Philippines
August 6, 2009 11:00am CST
Well for me personally I would say because im caring sweet and a good person who loves to be loved :)

if you make them feel special, important, cared about, loved...it's natural that they would want to make you feel the same way. and because all of us deserved to be loved! so why should someone love you?
6 responses

• United States
7 Aug 09
i like to think because i am a very caring and honest person and would do pretty much for them like what i do for my wife.

• China
7 Aug 09
I don't know if there is anyone love me except my familly .It seems a little poor.May be someone love me but i don't really know.If it is true,i think it's because something nice on me that i don't know myself.

• Philippines
7 Aug 09
people should love me because i am a unique individual who wants to share inspiring moments to whoever... even when it comes to friendship, they loved me because i'm not afraid to be different and i give them so much appreciation for the little good things i do for them. :)


• India
6 Aug 09
Hi, shheila. Those are beautiful qualities. I also think that we all deserve to be loved and we all should love others. That`s what is called the greatest commandment. By the way, you got a lovely avatar too.

Happy Mylotting!!


• United States
6 Aug 09
I'm very sweet and loving, i often sacrifice my own interest to help others. i'm rather strange at times, i love doing things that normal people wouldn't consider doing. But my boyfriend seems to love that about me... granted he isn't the most normal guy in the world. who else could i throw rubber knifes at to practice knife throwing lol. from what i understood this last weekend when we went camping with 6 other people (3 of them girls) the reason my boyfriend loves me is because i don't get people lost on the way to the camping site, because i don't drink till i can't walk any more and because i don't start packing and showering when we should be already leaving lol. I think being able to eat a strange berry in the woods and then spit it out saying "oops, that one was poisonous" for some reason attracts him to me though lol.