What is your sign?

Romania
November 13, 2006 8:16am CST
What is your sign and how it affects you life?
10 responses

• Pakistan
23 Nov 06
i am scorpio and i dot believe that it cann effect my life

• United States
23 Nov 06
I'm a Virgo on the cusp of Libra and my sign does affect my life in a lot of ways..probably in every way really since my Virgo traits are very noticeable...my Libra traits are minimal though...

• India
23 Nov 06
i am a scorpio. i dont believe in star signs much though.

• United States
13 Nov 06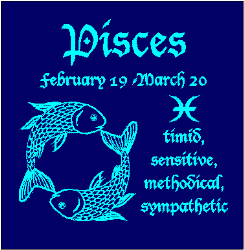 I'm a Pisces...I'm not sure it affects my life, but you can use it to describe me. I'm very sensitive, lots of compassion, and all the other things that are said about pisces. You'd think having a fish sign that I could swim well, but alas I can barely swim..lol

• Philippines
4 Jul 08
i'm a leo and i look at my zodiac as a guide for my everyday life