Has anyone eaten so much watermelon that they got sick

United States
August 6, 2009 4:20pm CST
I love watermelon! It is so refreshing, especially on those hot days. When I was little, I used to eat a lot of it whenever there was any around. One day, I hate so much in one sitting (practically the whole melon), that I had a stomach ache for the rest of the day. My daughter also loves watermelon. I always catch myself telling her to not eat too much and that she'll get a stomach ache like I did. Who else loves watermelon? And have you eaten so much that you got sick?
4 responses

• United States
6 Aug 09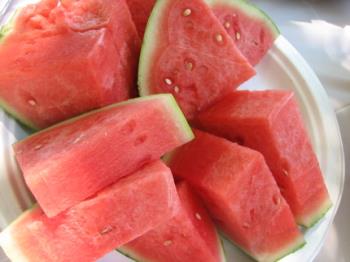 I also love watermelon. When I was younger I had done the same thing aww did my belly hurt so bad. I have a whole watermelon in my fridge right now that I want to go cut up and eat some. It is one of my favorite fruits.

• United States
14 Aug 09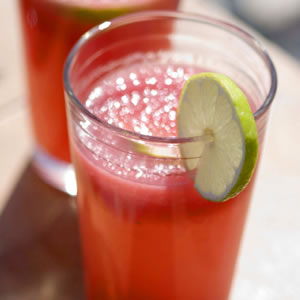 okay I will let you know if I end up trying it. I am going to post a pic of it..


• Holiday, Florida
9 Aug 09
i totally do love it. never eaten enough to get sick tho. altho, one time when i was 12yrs we were picking tomatoes and i love tomatoes so much that i lived on them for three days. wouldnt eat anything else and i started having problems holding my urine and even wet the bed

so i guess you could say i was getting sick on them and my mom made me stop eating them so much and made sure i ate other things.


• United States
6 Aug 09
I am also love watermelon but im not sitting down and keep eating till I finish it at all... cuz it is fruit full of water and it will make you sick. I never get sick of eating watermelon but I got sick of eating the spoil mango.

• Malaysia
1 Sep 09
Yea me.I like watermelon so much and be able to eat the whole of it.But since i got asthmatic i can't eat lot.I still remembered there was one day that my asthmatic got at the stage of serious and hard to cure.Because I ate lots of watermelon plus with some ices, I was being warded at the hospital for about one day due to my asthmatic and allergies. Since that, my mom keep on watching me if I start to that fruit.It really can give u some serious illments if you got carried with it.hehe.Try to control it a bit.And now, my asthmatic is not at the serious level anymore.And I still be able to eat that luvly fruits.hehe.