Les Paul dead at 94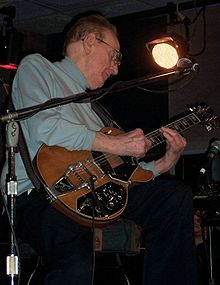 St. Catharines, Ontario
August 13, 2009 6:46pm CST
Just heard that Les Paul died today, at the age of 94. He had pneumonia. He was responsible for many innovations in the recording industry, including multi-tracking and the solid body electric guitar which bears his name. You can read more about him here: http://news.yahoo.com/s/nm/20090813/ts_nm/us_paul_4 His Wikapedia page has already been updated to reflect his death.
2 responses

• United States
14 Aug 09
I thought that he had already had passed. 94 years, to me, that's a long time. He did do a lot for the music industry. A great pioneer and inavator, rip.

•
13 Aug 09
May he rest in peace, he was a great man who changed the music industry forever... someone this special and important definitely needs to be honored. Hope his name will be remembered for many generations to come.

• St. Catharines, Ontario
14 Aug 09
With his name on a line of guitars, I don't think it will be forgotten any time soon.