This woman is a victim of facebook!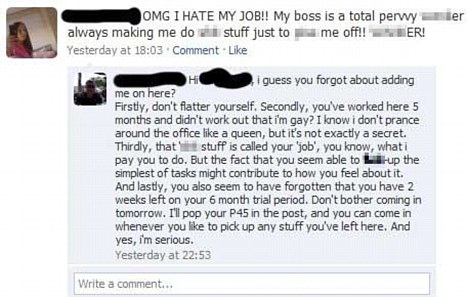 India
August 14, 2009 6:49pm CST
A facebook status has created storm in a teacup in the cyber world! A female worker updated her facebook status saying her boss was annoying and she hated her job. The woman, known as 'Lindsay', had forgotten that she had added the boss as a friend and he(boss) could read all her messages.

It happened what was supposed to be. The boss named 'Brian' read what Lindsay wrote in the message and a few hours later he commented back ensuring that she had been sacked! What an irony of fate! This funny news has been read by hundreds of thousands of readers in dig and other social networking websites.
Just read the attached picture of that funny (and tragic as well) message from the employee and the respond of her boss
.

4 responses


• India
15 Aug 09
yes.. yes.. you are right fwidman! Just flattering herself! One must careful with what they right on these places.

• Philippines
18 Aug 09
I try to keep my work relationship professional and I usually don't add officemates especially my boss in my social networks. Though I always avoid posting negative remarks about anything in my social networks, I do not see the benefit that other people will get if they know that I am having a really bad day. She should have been more careful of what she posts in the internet.

• Philippines
16 Aug 09

I have seen this before on another discussion. i feel bad for the boss who trusted this lady for hiring her on that job. and he felt betrayed by this girl. but some how i think that the boss was too harse just because he received that in face book, doesn't mean she violated any rules in office..unless there was a rule not to bad mouthing your boss, then it's a valid reason for him to fire her


• United States
14 Aug 09
It really just goes to show you that you either A) need to be careful about what you post on facebook/myspace, as everyone can see it and it might be offensive or taken wrong, even if you are just venting after a bad day, or B) be more selecive of who you add as frends on facebook. I have a large number of family members AND co-workers on facebook, which is nice, cuase it is fun to keep up with them that way, but i always keep that in mind before posting ANYTHING, be it status updates or even some of the quizes and apps that are out there. Just th other day actually, i had a slight funny one, i had taken a quiz entitled "Where will you get knocked up" and got the answer "In a public bathroom"....and i posted it to my profile cause i thought it was funny. Well, a co-worker commented back "Hopefully not at *insert name of where i work here*, which was funny..but then my mom posted a comment saying "well, that is kind of disturbing and not really how i want to think about my future grandchildren begining"...which, still, is funny, but made me think twice before posting any other quizes.