MEN - if you bought your fiance an engagement ring

United States
August 16, 2009 2:15am CST
how did you know what size to get? did you look and find a ring in their jewelry box and get it that size or if there arent any rings do you just guess and figure it can be changed later? ive just always wondered lol.. i had a 4 and half size ring finger when i got engaged and im glad there was no ring since the smallest most places sell is a 6 and i would have felt stupid with it being too big
6 responses

• Indonesia
16 Aug 09
I think if you decided to buying your fiance a ring, that's mean you have to known much each other. So you should know her ring size. Or if you haven't know it yet, you can pretend touch her palm and make a quick analysist by comparing her fingers with your fingers. So it's not hard thing to do. Good luck and have a nice day. Happy mylotting.

• United States
25 Aug 09
well i know i never wear jewelry and my fingers are incredibly small so my husband knew he would never figure it out.. heck stores dont sell my size

• Philippines
16 Aug 09
Of course, we men want to surprise our girlfriend when it comes to proposing for marriage. On my part, they say that the size of our pinkie finger should be the size of the ring finger of our partner (they say if it does, then you are meant for each other, lol) and i fell for that. When i bought her an engagement ring, that was what i did, i put on the ring I bought on my pinkie and it sure did fit when I asked her for marriage and put the ring on her finger.

• United States
25 Aug 09
hmm i had never heard that before

• Philippines
16 Aug 09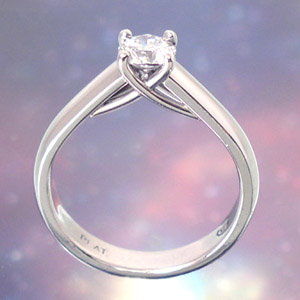 Well, it was kinda easy for me because I thought of it way ahead. I gave my wife a ring that symbolizes our relationship a while back. What I did was took note of the size of the ring that I gave her. Years later, when I was ready to propose, I just referenced the size of her current ring to her engagement ring. It was a perfect fit.

• United States
17 Aug 09
This is a great questions. I was hoping to read it and see more answer tho

My husband and I looked at rings together for a few months before we settled on "the one". We ordered it together so there was no ring size guessing.

• United States
25 Aug 09
that seems to be the way a lot of people are doing it

• United States
20 Aug 09
Hi Moon...I believe most rings come in one size now and I see no reason why the ring cannot be sized after it is given. Most men are not very good with what sizes their girlfriends or wives wear and most of the time it is something that has to be returned or exchanged. The giving of an engagement ring is not about worrying about the size but about the promise that is made when you take this ring. The size can always be changed to whatever you need. flutterby

• Canada
22 Aug 09
My husband and I picked out my ring together, so we knew what size to get. We got it on line from bidz.com, and I had my finger sized at a jewellery store, so we were able to get the ring we bought re-sized before it was even delivered. He and I decided it would be best for us to pick the ring together.