Sweet baby Uno is six weeks old now!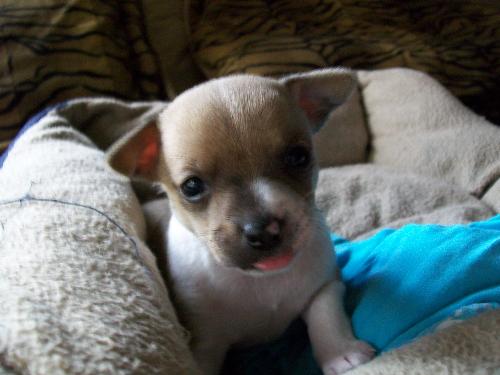 United States
August 16, 2009 4:49am CST
Uno is now six weeks old and ready to go to a new family. He is so cute and very smart. I just don't know if I can do it. I've already raised his price.

I'm screening people for his new family.

Have you ever had to let something go that you enjoyed very much?
10 responses

• Philippines
16 Aug 09
Oh what a cute little angel

! I am pet owner myself and I have 2 male shih tzus. Actually, I've been wanting to have a new pet and I have my interest on chihuahuas

. He is just 6 weeks old. Is it already safe for him at that age to be disposed? I mean he could still be feeding from his mom's milk. To answer you question, I have not experience letting go of something that I enjoyed having. If something gives me much joy I will not let go of it. That's how it is to me.

• United States
16 Aug 09
He is ready. He is already being housebroken as well. He's very smart and is already eating food. His mom is through with feeding now that he has those teeth. I have both his mom and dad. Dad is 4 pounds and mom is 3 and a half. They are teacups. He was the only puppy she had, it was her first pregnancy. I'm glad you haven't had to give anything up that you enjoy. This is going to be tough for me. I think I will be very picky about a family.



• United States
16 Aug 09
Yes, i have JEN but they weren't always 4 legged,

. u aren't going to let uno go & u know it. I think u will be sorry if u do. U don't have to , do u?

• United States
16 Aug 09
I'm sure I would probably be the same way. Uno is a sweetie pie.

• Australia
16 Aug 09
What a little sweetheart! I wish I could have him! Two reasons why I can't,one is the Australia factor and the other is that another pet would end up in divorce because my husband has put his foot down and I am not allowed any more animals much to my dismay. I am thinking of looking for a cattery as a business for myself, it is the only way I could enjoy more 'babies' without taking them home! I am aware of the hard work involved though. Uno is beautiful and he looks so easy to love; I'm sure you will find the perfect home for him at the perfect price! I found an adorable kitten a couple of months ago; he was so friendly and gorgeous. Because of my husband's stance we had to make absolutely sure he had a home and it all turned out well because eventually my daughter and I managed to locate his owners which was a terrific result for all but geez I would have loved to have kept him a bit longer!


• United States
16 Aug 09
Hi paula! They are so easy to get attached to. I love him..lol. I am like you. If I see a homeless animal, I have been known to load them right up and bring them home with me until I can find them a home. It's sad that some of them are abandoned. There are a few people interested in him but I haven't been able to let him go yet.

• United States
11 Mar 12
Hiya Jen. I don't know how I missed this discussion, but I'm so glad I saw it now. It got my curiosity going.

Whatever became of the puppy? (Okay, so it's hardly a puppy anymore. LOL) Did you ever find a home for him or did you wind up keeping him?

I never had a Chihuahua...until now. I never knew they could be such a joy to have. I always thought of them as yippy and annoying little dogs. I know I shouldn't have stereotyped, but at least I know better now. To answer your question. No, I never have. At least not something living anyway. However, if things keep going the way they are I'll have to sell my car. And lord knows I've enjoyed that a lot! I just hope it never has to come to that. Happy mylotting!


• United States
12 Mar 12
Oh Jen, I'm so sorry. I'm even more sorry I asked. The last thing I wanted to do was bring up bad memories for you.

The job search is going slow. Mostly as I hadn't really had the time to look. I finally got more hours with my current job a few months back, so between that and family life I've been trying to catch up on much needed sleep. Unfortunately, I think I got my boss upset with me the last time I worked, which was on the 3rd. I haven't heard from her since. I don't know when I'm going back, if ever. I did hear from my co-worker a few days ago, and although she reassured me that I'd be going back in the next few days she seemed a bit uneasy about it when I asked. Anyway, with all this time off you'd think I'd have time to apply. I just don't seem to have the strength. I did apply to a few places, I just haven't applied to as many as I'd like.


• United States
12 Mar 12
No worries sacmom! He is actually a good memory for me. I smiled when I saw his picture on here again. It was a tough time...I'm surprised , to be honest, that I didn't post a follow-up or about the incident. You know how something happens and then by the time you think of sharing it it seems to far gone to post about? Kinda the issue. I had to clean my whole house in bleach to make sure that the virus didn't get to the dogs I had that weren't ill. I think I was even on a seven day work schedule then. I'm always too busy now that I think about it. Take your time on the job front if there is anyway you can. I wish I had. I turned around and my kids are grown. One is even having a child of her own now. I am going to spoil it rotten too.

Take care.


• Holiday, Florida
13 Sep 09
aaawww!

he is just such a sweetie. we love our little ones here so much also and i often wish we could have more little ones here but it wouldnt be fair to the puppies as its so expensive now to keep up with everything they need. i only take my chihuahua to the vet when its direly needed these days and she dont require a lot but my sons pekingnese is always needing groomed and we let that go as long as we can. and yes i've had to give pets away in the past and so worried over if i gave them to the right person or not


• United States
17 Aug 09
It's just terrible when you have to let them go. I hope you find a wonderful new home for him. And make a few bucks too.

• Delhi, India
17 Aug 09
Hi there! I can understand that you have brought up Uno and it will be difficult to part with him. All the best to him so that he gets good company and family.

• United States
16 Aug 09
i know it is hard to let go of things you come to love i don't think i could raise something and sell it or like the farmers send their animals off for the meat markets.when i was married, my husband gave away a couple of dogs i had grew to love, i missed them so