What's Interesting become a Father?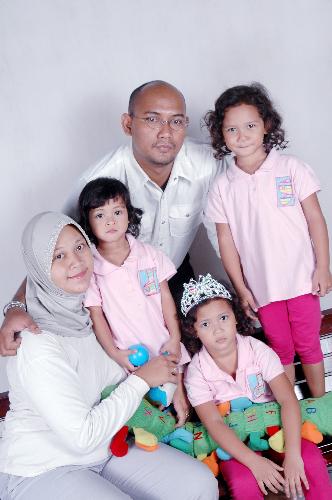 Indonesia
August 17, 2009 4:22am CST
I am a father with 3 child, a twin girls and a sweet girl. Actually, I want have a boy but long run of time, I think boys and girls is the same, equally need attention affection. The most I like being a father is when I go home from work, my childs receive my arrival. They hug and dangle on my legs. I am glad and feeling tired all day work lost. This interesting become a father .... How about you guys? Are you interesting become a father too?
8 responses

• Shingle Springs, California
18 Aug 09
Impossible. :-) I have twins also. My older girl is 12, my twins are boy and girl and they are 8. How old are your children?

• Shingle Springs, California
18 Aug 09
PS I didn't notice the picture! They're beautiful!

• Shingle Springs, California
18 Aug 09
Your wife's name isn't Golda, is it? With a brother in the US?

• Indonesia
19 Aug 09
hy dawnald, age of my twin is 5 years old.


• United States
19 Aug 09

Hi Advokatku. Congratulations! I thought being a parent was the best thing in the world. My three daughters are grown now and have children of their own...7 boys and 1 girl. And yes, they all need the same loving, care, and attention, whether boys or girls. Kids give a lot of love back to us, too. Karen

• United States
19 Aug 09

I just noticed the picture! What a beautiful family you have.

• Indonesia
22 Aug 09
thanks peace ..... heeyy, you has be grandmother right ?

• United States
22 Aug 09

Yes, I have seven grandsons and one granddaughter, all very dear to me. I think it is a great honor and blessing to live to see one's grandchidren or great grandchildren :) Karen

• Pakistan
21 Aug 09
You are good father and experience one too. I just got a kid, he is just 9 months old now. So i am new father, can even compare to you. My kid always try to get attention, always smile at me.. shout loudly.. try to take my laptop from me. He is quite jolly type kid. Speaks to everyone (in his own language of course), unlikely like us (me and my wife are quite, and don't get socially so easily). He teaches me alot of things like never say die, observe world around you. Inquiry things.. And lot of stuff.. I am his father, but he is pretty good teacher.. atleast better then me.. And i feel pretty proud after every of his achievement (like just some days back he started to stand up, he is balancing at the moment, but can't stand without any support such as table). It is very great feeling to become a father.. And a father of a son like him :)

• Indonesia
22 Aug 09
congratulation frack .... nice be a father and comfort it.



• Indonesia
18 Aug 09
ya indah, every father have a way to show it, I think your father keep happy have kid like you

• Indonesia
17 Aug 09
Very happy it seems become a father. My time first marry, I not all that is convinced whether I can become a father. But currently with the presence of my two children make me feel happy and can work harder. When I come home fro work they always are full of the smile and say the Father come home....The father come home. The smile not we could when working, the smile of a sincere child loves his father. Not like that the friend.

• Singapore
17 Aug 09
You are good. Some people do not like the noise that children make, especially when they go home from a long day's work. I think it is how and the condition of your own up-growing as when in your childhood that makes the difference. If you grow in a quiet environment with little siblings, you won't like the attention and noise of children although you may feel envy of others that have good relatioships with their siblings and family( and thought you wanted that too ). BUT mostly, it is the love in you for the family you create that makes the tolerance/difference in reactions. Your children and wife are lucky and I think you feel it's the other way too ( that you are the lucky one ) :D Enjoy it.

•
18 Aug 09
My dad was often tired when he came home but he always made the time to say hello to all of us and spend a few minutes with us before we went to bed. Like you my dad had twin girls (im one of the twins) and then another daughter he always tells everyone how lucky he is.