What are some good ways to cook Green Peppers?

United States
August 19, 2009 12:20pm CST
This is my first year growing my own vegetables, and I have a bunch of green peppers blooming. I was wondering about some good recipes that include green peppers. You can only eat green pepper omelettes, quesadillas, and pepper steak so much. What are your ideas? Do you have links to some great recipes, pictures of the final product? Thanks mylotters!
3 responses

• United States
19 Aug 09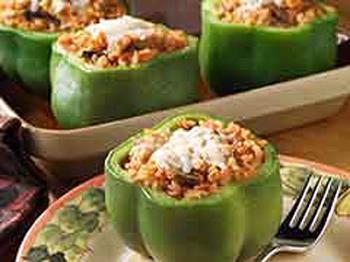 You can make stuffed peppers this is the link for the recipie http://www.tastelouisiana.com/recipes/staceybellpepper.htm I also included the picture of them. Green Pepper and Tomato Salad link for recipie www.foodnetwork.com/.../index.html You can also use green pepper in your spagetti sauce I always add it in all the time and I make chicken salad and put it in there also and in tuna salad. regular salads. in meatloaf...

• United States
21 Aug 09
Thank you so much for the great recipes! I'm going to need them. I just counted on my 2 plants that I have 10 peppers currently..and another 10 flowers with the little green peppers inside (so cute!). Yes, I think tiny lil vegetables are adorable, lol. My fiance thinks I'm crazy. I'm definitely going to have to try making some stuffed green peppers! Thanks so much for responding :)

• United States
21 Aug 09
Yeah stuffed peppers are really good you will be happy with them. Your not crazy I think little baby vegetables are cute also...

• Yecla, Spain
19 Aug 09
I just loved stuffed green peppers and found this recipe on line, that also has related videos to show you "how to" http://www.ehow.com/how_2115773_stuffed-green-peppers.html Sorry couldnt include the any images, either Im ot entitled to, or Im too stupid to know how. LOL Hope you enjoy the recipe.

• United States
21 Aug 09
Thank you so much for the recipe! I'm getting hungry just reading these recipes from my helpful commentors :) Oh, and your not too stupid at all! I believe you may have to hit a certain amount of posts before you can post a picture, although I can't be positive. I've been away from mylot for more than a years time, yeah, I know! I'm back now, although not as much as before..but I'll remember these things in time :) Thanks for the response!

• United States
27 Aug 09
I like the stuffed green peppers myself. I also use them a lot in stir fry cooking in the summer when they're fresh. My one daughter had a bumper crop of green peppers this year lol. I was lucky to get a whole lot more since my own plants didn't do to well (too cold this summer.) So, to keep them for winter use I diced them and put them on a cookie sheet to flash freeze them. Then I store them in a zip-lock and just grab a handful to add when I'm cooking. I like to add them to lots of dishes, especially in the winter when they're more expensive to buy.