Have you been to different places? country?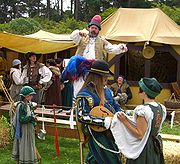 China
August 22, 2009 8:59pm CST
Hello, fellow myloters. Do you love to travel like i do? have you been to another country to attend and witnessed their festival? I've been longing to go to Venice to watch their carnival where everyone dressed up in costumes and a parade of gondolas. How about you? is there any festival that you want to see and take a photo of it? or you just only want to travel,explore the place and relax? Love to hear your travel experince.


7 responses

• Philippines
23 Aug 09
i love to travel but unfortunately i go out of the country not to site see or to shop but to work. i can not even believe that i've been hongkong but never got a site of ocean park.

poor me. ive been to tokyo but never had a site of tokyo disney land. it was expensive and i was saving all my money for i have kids and im a single mom. i hope when the time come i can go out the country to travel not to work.

• China
24 Aug 09
despite of your busy schedules looks like you have a great job. Are you a medical representative? Or a cabin crew?? I think you're in deep sleep when the air craft landed in hongkong.

Kidding. If you have your own business you can travel a lot.

Thanks for your time, Roni.

• Philippines
24 Aug 09

i wish i was a medical representative for the salary of these people are very high, i am not a cabin crew either. i am a band singer. i have to save everythig i have for i have four children so even if i wanted to go around i just save for it is kind of pricey to be going on those places.

• China
25 Aug 09
Oh, my friend is a band singer. You must have a gorgeous voice huh? do you have gigs in your place? hmmm... i must fly and hear you singing.

but, before I can do that i have to make sure that i'm away from those giagantic speakers, my ears are sentive when it comes to sounds.

• United States
19 Dec 09
Hi, simoneleee. I have never been to another country before. I have always wanted to visit another country. I think that it would be exciting to see something new and different for a change. I have gotten so bored in this country. I want to see new sites. Maybe one day, I will get to visit another country. I hope that your vacation to Venice comes true too.


• China
19 Dec 09
Same here. I want to experience new things outside my country. Always wanted to explore new cultures and see new sites. You are residing in US and as an Asian we I wanted to visit your country but not to settle down. Leaving a place like your country is a fast phase, pretty sure you want to escape that living for awhile. I hope Venice vacation will come true. S, what country do you wish to visit?

• Philippines
9 Dec 09
I been in Hong Kong, Singapore, Macau and China. In the Philippines I been in Bicol, Iloilo, Negros, Guimaras, Antique, Aklan, Capiz, Cebu, Batangas, Rizal, Laguna, Bulacan, Pampanga, Baguio.. etc. ....... I want to go to Europe..that the place I want to visit.. ..... About festival..I been lots of festivals here in the Philippines but outside the country I don't encounter one..

• China
19 Dec 09
You pretty travel a lot. Is it a family trip or a business trip? How long do you stay in one city when you are on a travel? So, when are you going to visit European countries? ou must have big budget for that trip.

• Philippines
23 Aug 09
yes I've been to hongkong and china. and some different places here in the Philippines. I saw some culture of different countries, and also some beauty spots, i enjoyed walking on the clean streets of hongkong, and do some shopping there, its not so expensive when it comes to dreess and accessories. And in china also have many things to buy in cheaper amount. Have you been there too?

• China
24 Aug 09
nuh-huh! never been there. For now, I'm saving money for my future but, i'm still planning to go there to purchase some clothes and accesories to sell. I think bangkok is much cheaper than Hong Kong because of the demands of their RTW's? I wish I could travel anytime.

• United States
25 Aug 09
Honestly, I am from the United States, and I have never ever been to another country, but I have always wanted to! I have only been to a few different states and that's it lol; I live in Wisconsin, was born in New Hampshire. I have visited Michigan, Minnesota, Illinois, and the states that follow to Washington DC, because I took a trip there when I was in school to see the White House and all that grand stuff, it was great!

• India
24 Aug 09
I would like to go to different places of natural beauty and enjoy the scenery. I love to relax in the greenery or even along a beach side. Listening to my favourite music is also relaxing when visiting such places. I travel a lot for my tournaments and rarely get any chance to enjoy the beauty of the place I am visiting due to tight schedules. But I am now thinking of keeping a day of two particularly for enjoyment after the tournament is finished.

• Philippines
23 Aug 09
yeah, I have been to the California, and some other states in the U.S. I've been to Hongkong and Macau too... but I only like these places for the views and shopping and some of the food... nothing beats my homeland...... no place like home.........