Flying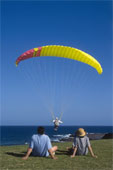 India
August 23, 2009 8:26pm CST
We as a child at our childhood always thought about flying,flying like birds,high on the sky.It's always so fascinating,it's like dream come true.....even the very thought of flying brings smile onto our(even as an adult) face,so how mesmerizing it would be for a child. Yes it's a magical moment!!! where every one of us wants to experience it. It does not matter whether we are adult or a child;we just want's to fly,and soar up on the sky.....near the stars and moon. We are very blessed by birth because our four-father's already have developed all the necessary equipments(simple hang glider)and now we can fulfill our dream of being like a bird.The fascination for flying becomes more and more strong due to the fact that we all gone through the pages of story books,where we finds our most favorite character is flying, moving from one place to another very easily,you just name any character each of them are "flying". we are here too for "flying"!!! yes with the most simplest form of flying by means of HANG GLIDER, without much of a fuss i.e. no heavy engines or motors,no fuel and no smoke coming out of it. It's just me and my hang glider.....Just jumps off from the high ground into the lap of Mother Nature just like the birds do,within minutes after the lift off the whole world is below me and I am Flying.The tiny fields,the spots that were cows, sheep and trees, were spectacular! I could not stop grinning,the views were so glorious! and charming! It was so peaceful! just flying through the air like a bird! The experience was like a dream! it was getting to dusk and it was most picturesque!slowly the ground is coming towards me as if I am being engulfed by the very landscape from where I have started.Everyone could see just how much I did enjoyed the experience of hang gliding and everyone congratulated me! I was on a total high and could not stop smiling.The hang gliding experience had lasted around 14 mints. in flying time and had exceeded all my expectations! It's is an adventurous way of spending time.
1 response

• United States
24 Aug 09
Congratulations on your fun experience! I still love to fly, but as a child it is as you said, just something I totally hungered to do. My parents, on the other hand, never rode in a plane and I don't think either one of them even had the desire to try it.

• India
26 Aug 09
Thanks drannhh for sharing your feeling...it's true that most of us haven't boarded an airplane, but we always dream to fly...both physically and economically, and for that I think hang glider is the most simplest of all form for flying.It will be nice if we fly together.....