sometimes it takes a friend to put you in the right track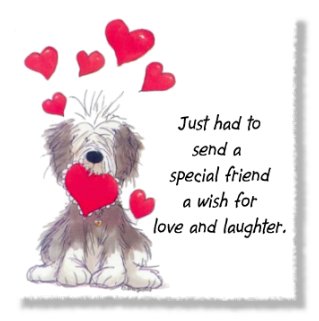 Philippines
August 25, 2009 10:48pm CST
when we see friends who are willing to help us when we are down, when we see friends that made it through the rain and storm with their life, if we see friends who wont stop till we get the lesson in our heads and to get strength to go on and move on even we are hurt.... sometimes it takesa friend to put us in the right track. friends who inspire us to be strong and to believe in ourselves. stop and email a friend or send her a SMS and tell her how important she is and how sje made a big inspiration to your life. to all my mylot friends active or not, THANK YOU i learned a lot from all of you in small and big ways.
4 responses

• Philippines
26 Aug 09
i agree with you on that roni..... everybody needs friends.. and friends are not there for no reason.. we have a lot to learn from each other,and we need freinds to point out where we're going wrong ..so we can correct ourselves the good way


• Philippines
26 Aug 09
Most of my friends know that i don't like composing text messages and even long emails... so i tend to just give them a call from time to time... i have been out of contact with some for a long time now... but i never forget the good times and bad times we shared... and it is always a good thing when i bump into them and then we talk and try to catch up on what has been happening in our lives...

• Philippines
31 Aug 09
i am not good on composing long emails as well i just drop by and give a hello and hi and just ask how they are, share a few jokes and a few of what is happening to me. sometimes it takes a few weeks before they reply back but i completely understand that they are busy too. friends are friends they live in our hearts. thanks for the response

• India
26 Aug 09
yes friends have both bad and good effects. It depends on the company u keep. Good friends are really a boon while bad one's can spoil the other's life beyond repair. this is a unique relationship. Born to different parents, and not related to each other in anyway, what bonds them together is something i have not been able to figure out till now.

• Philippines
31 Aug 09
well maybe we can be the good example for those bad friends maybe we are there to put them on the right track. but i agree with you that friendship is a unique relationship, born to different parents but trteat each others like siblings. can sahre anything and everything. thanks for the response

• India
26 Aug 09
It takes a good friend to "show u the right path" help u to make right decisions and support u when things go wrong instead or imposing thier decision/thoughts on u. A good friend is hard to find and if u have found one..yes..tell ur freind that he/she is special to u...Im going to tlel my freind too.

• Philippines
31 Aug 09
a god friend is hard to find. so true, so we need to cherish them like diamonds once we met one. there are a lot of friendly people out there but still we need to analyze of they are for real or not. people gains friends just to use them so we need to pick the real ones. thank God for real friends. thanks for the response