how to make a leche flan C: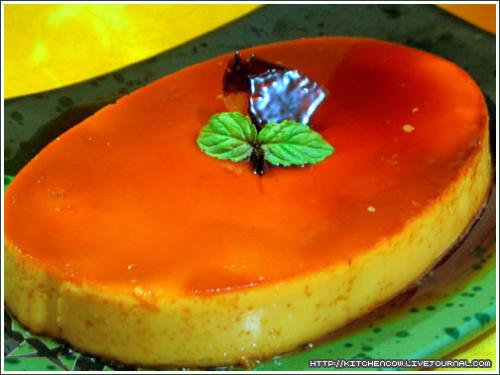 Philippines
August 28, 2009 12:47am CST
this how i make my leche flan.. ingredients needed: evaporated milk 1 big can condensed milk 2 small cans 6 egg yolk (preferable itik egg or duck egg C:) white sugar the steps: prepare a steamer. before doing the mixture start placing the steamer on a low fire. in a big bowl, mix evaporated milk, condense and 6 egg yolk. mix gently, avoid making bubbles. then using a strainer, strain the mixture to remove unmixed parts of egg then set aside. get a small pan and in a low fire dissolve sugar until caramelize make sure to not burn the sugar or do not make the sugar too brown in color because that will make the syrup bitter. After dissolving the sugar, while hot, pour a small amount to a llanera or the leche flan container (just enough to cover the bottom) then get the mixture and pour it laso in the llanera (be care when pouring to not mix the syrup and the custard mixture) then cover the llanera with a foil and place on the steamer. steam for 45 minutes! be sure that the fire is placed in low. check after 45 mins. the leche flan is ready when the custard is solid but jelly like. when done, let it cool then using a thin knife, scrape the sides and then turn upside down in a serving plate then serve!it is best served when chilled!! C:yum! happy eating!
1 response

• United States
28 Aug 09
Yummm!!! I've got all the ingredients in the pantry. I should try this, but it sounds a little above my cooking talent.

Oh, and I don't have the duck egg . . . that's a favorite of mine too. I marinate that thing for a few months in salt water. Very tasty.