what is your internet browser?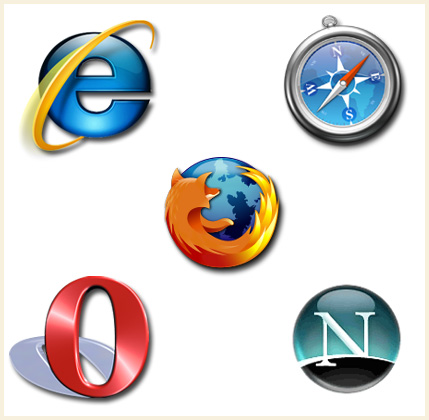 Indonesia
8 responses

• India
29 Aug 09
I use chrome but unfortunately it is not in your list.I use it because it is very fast and i find it very flexible and easy to use and i got less complications with it.If it comes to chose with the options you gave I would opt for opera as it is also like chrome in the lookout


• India
29 Aug 09
Its more or less like opera with the home page being the snapshot of the last 8 websites that you have visited and its very fast when compared to others. try it once and you will like it..

• Indonesia
29 Aug 09
i ever used opera too, it's so cool for quick webpage access

• India
2 Sep 09
i always like mozilla firefox and it is one of the lightest and fast browser

• Philippines
29 Aug 09
I have Internet explorer, firefox, and opera. I use them all interchangeably based on what I would like to use each day. I use Explorer v6 only because the later versions 7 and 8 tends to slow down my pc and crashes all the time. I have used netscape navigator when I was still using windows 98 OS. It is not secure and now Netscape is already defunct.

• Indonesia
30 Aug 09
I Think the three beowser that you said currently competing now, and firefox become the leading

• Australia
29 Aug 09
I use Firefox. Never had any problems with it. I think that it is one of the safest browsers out there. I also like that it supports many addons which make my Internet surfing experience enjoyable. The only downside to using Firefox is that it uses a lot of RAM.

• Indonesia
30 Aug 09
i think the memory still in a range and did not effected in whole perfomance at all

• United States
29 Aug 09
Firefox is my absolute favorite. It works well, doesn't crash too often, and has a large variety of addons. Pretty much anything you like in another browser you can get an addon for Firefox to do the same thing.

• Iraq
29 Aug 09
I have both IE 7 and mozilla but I use mozilla all the time because it didn't take long time to view the pages , loading is very fast , save , and also very easy to use and don't have troubles

• Indonesia
29 Aug 09
from the short comment resume , firefox are most used

• Indonesia
29 Aug 09
Hi there, I have 4 kind of browser installed on my Computer, they are Chrome, Firefox, Safari, and Internet Explorer but I usually use my Firefox and seldom use the other. I think Firefox is the best, because after I compare all of them I know if Firefox is the fastest and I like to use it.

• Indonesia
29 Aug 09
Thanks WahyuQ for comment in this topic, and thanks for your sharing that have trial for 4 browser :) today i still used firefox

• United States
29 Aug 09
I tend to use Chrome which isn't on your list. I use it because it tends to be very fast and responsive. I know that a browser doesn't affect your internet speed, but the browser does affect how fast the page renders once the information has arrived. Switching between tabs and the rendering of pages in Chrome is in my experience the fastest. I do still use other browsers for particular tasks, but for my general web browsing I use chrome. I am using it currently to view MyLot for example.

• Indonesia
29 Aug 09
yes it is right . simply browser can make surfing more faster. i ever trial Chrome it is very nice browser just needs more features to be completely browser. But in my Country Chrome did'nt familiar yet. IE and Mozzila are most used by internet users .