35 Years of Hello Kitty (McDonald's Happy Meal Series)

Philippines
August 28, 2009 8:32pm CST
Hello Kitty is celebrating 35 Years and McDonald's is celebrating along with her with 36 (and not 35) Hello Kitty toys divided into several series like "travelling kitty", or "action kitty", and some have hello kitty figures in them or mirrors. Being big on collectibles, I've already gone out to get a few. So far, I have the following years: 2002, 1984, 1981, and 1977. 2002, 1977, and 1981 are from the Travelling Kitty series, while 1984 is from the Action Kitty series. I think I will stop there though before I go insane and try to collect all 36. I don't want to have to eat all the Happy Meals. LOL! What do you think of this Happy Meal Series?
2 responses

• Philippines
29 Aug 09
Oh I like that!

I haven't been visiting McDonald's lately and am unaware of their Happy Meal offers for this season. I have collected the Hello Kitty stuffs they have back I think that's 2002. I also like Hello Kitty. Thanks for posting this! Surely I'm gonna be visiting the famous burger house later today hehe

. Ciao!


• Philippines
29 Aug 09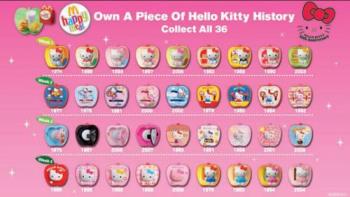 Your welcome! and thanks for the response! if you want to see a picture of them, check out my photos. I was going to post it with this post, but I forgot, so let me add it now.

• Philippines
29 Aug 09
thanks!! heheh! they are actually 2 and a half inches tall, i am not sure heheh


• Philippines
29 Aug 09
I have seen the happy meal kitty toys.they're cute.

not really my thing,though.I don't collect happy meal toys,except those Snoopy toys.I love Snoopy.I actually buy the mcdonald's breakfast happy meal so I can get the Snoopy toys.

• Philippines
29 Aug 09
oooh i remember the snoopy ones. my friend loves snoopy and collected a lot. as for me, i'm more into hello kitty! thanks for responding!