Another tattoo....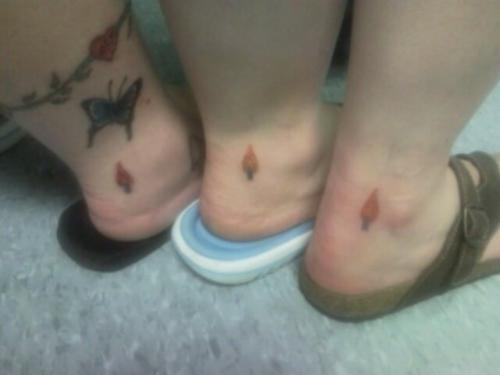 United States
August 29, 2009 7:01am CST
I must say, this is the shortest time I've ever had between tattoos! Some of you may remember that I got my new tattoo just a few months ago. I've never been "rash" about my tattoos, I put a lot of thought into them and they usually take at least a couple years before I actually get it. My first one took a few years after I had the dream about it (I kinda miss seeing my Saturn around here). Then a few years later I got my Orca (which is my least favorite one, unfortunately). It took 8 years before I got my Dove - the current profile picture. And then a mere 6 weeks to get my most recent one. When I got the dove done, it was a "sister" event. My two sisters had planned on getting new ones and I took that opportunity to get the one I'd been wanting. About half-way through getting what we each had come for, we thought it would be cool to get something the same too. We didn't have enough time for it that day, but scheduled a time to come back and get them done. We had decided to get a small candle flame because our birthdays are within 3 weeks of each other and we celebrate them all together when the whole family is around for Christmas. This isn't a very good picture - my sister took it with her phone right after they were done. We'll get a better picture next weekend at my Labor Day Party. I'm the one in the middle! The flame part is all the same, but the stems are different. My sister on the left (with the other tattoos) has a green stem with white lines in it, mine is solid green and my other sister's is purple with black lines through it (I think it has the black lines???). We were very pleased with it and have to convince our mother that that is what we want on our birthday cards this year! She's not really hip on the whole tattoo thing, but I think we can guilt her into it since she didn't make us a card last year - she couldn't think of anything good to put on them.
2 responses

• United States
30 Aug 09
I am still contemplating that butterfly tattoo. Now I would like to get it on my right wrist and have it made into a cuff. I have been told not to go completely around the wrist because it is a tender area. Now to get the money and the courage to go through with it. If someone else went with me and got the identical one I may be okay with it. .

• United States
30 Aug 09
Dang! You shoulda come up with us! My sister had her butterfly redone at the same time, it looks so much nicer than it did. They're all painful, but I do think the inside of the arm area is more sensitive.

•
29 Aug 09
Awwww they look really good! Its nice that you all got the same, makes it more special i think! I dont have a tattoo but i sometimes really want one. When i was younger i used to love those temporary ones that you transferred onto your skin. I have a massive fear of needles though, i hate going for injections and stuff so i think i wouldnt even make it in the door to have a tattoo lol