Is your pet almost like another child to you? Is your dog truly your best frined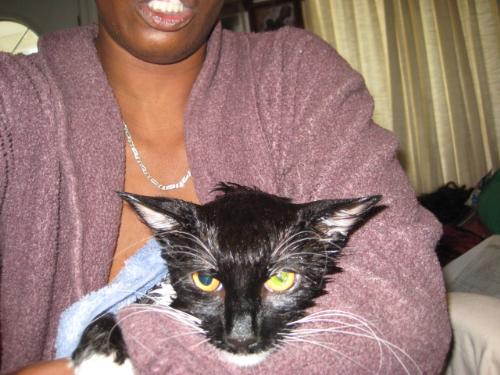 United States
August 29, 2009 10:39am CST
As a property renter, as opposed to a home owner, getting a dog would cost me a $600 pet deposit. Now I don't know about you, but that is a pretty hefty cost, especially when you add on the cost of the pet, pet supplies (leashes, toys, carriers, shots, food, treats, exercise equipment or regimens that you must participate in with your dog) So since I moved into this house two years ago I have had two cats and four extra large big eyed godlfish, but no dog. My guy loves dogs, and before he moved here he was a home owner so he has been a multiple dog owner most of his adult life, I grew up with dogs, I have a certificat in dog grooming, I love dogs and their loving, devoted, and long suffering devotion to their families. Though I have always owned cats also, normally any time that I would get a kitten or a puppy I would start hunting for a furry, fuzzy, little opposite breed companion. I love my cat and I loved my goldfish, but there is no pet like the canine, mans best friend for engagement, love, and interraction. Do you have pets? What kind? Do you have more than one? What do you like about that particular kind of pet. And finally what is your pets name? My kitty is named Jenks but he and we seem to think that his name is "Stinkbomb" even though I bathe him once a month and of course this is not his name, but he will come faster and more eagerly when you holla, "Stinkbomb" than when you call him by name. A pic of my wet and irritated felius is included here. Love your pet, give them a lot of personal attention and they will return the love and d4evotion a hundred and sometimes even one thousanc fold!
1 response

•
29 Aug 09
I have 2 rottweilers and honestly they are like my children. I had another one aswell but last year he had to be put to sleep because he had cancer and i asked the vet if he could be saved, i would spend whatever it took but he couldnt be so i had to have him put to sleep, i was heartrboken. Pets are so much more than just animals, they are there for you no matter what to cuddle up to you and listen to your worries, they are such devoted animals, plus they are better behaved than children too


• United States
1 Sep 09
Yes they are all of those things plus they can be left at home by themselves even over night. No matter what you do for a living or how much money you make they adore you and are always excited to see you. My cat on the other hand he acts like a dog sometimes. He follows he around the house, he is exccited to see me when I get up in the morning and when I walk through the door. He also comes when I call him. I still miss having a dog though.