Spongebob....your kids favorite cartoon show?...?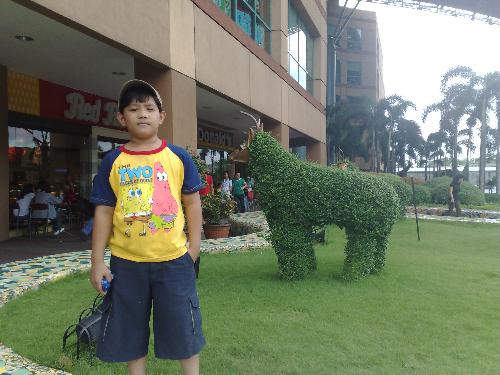 Philippines
September 2, 2009 10:59am CST
Hello friends and mylotters,I wonder who among my dear mylotters have kids,and who's kids like watching SPONGEBOB SQUARE. My youngest son love watching spongebob...his favorite cartoon show,aside from Tom and Jerry... How about you dear friends...what cartoon show/character your kids love to watch?
4 responses

• Philippines
3 Sep 09
Hello my beautiful friend...since from the very start that I learned to watch cartoon movies and until now, my one and only favorite is TOM & JERRY then the next is Road Runner....bep bep bep have you seen that? he he he that's all and nothing more....what's you menu tonight my friend he he he h


• Philippines
4 Sep 09
Hello amigo, beep beep...hahaha,the road runner who destroys the road. How about Taz...?


• Philippines
5 Sep 09

I don't know Taz, maybe I watched it already I never knew it was Taz..I would rather watch Tom and Jerry....


• Philippines
2 Sep 09
ahahaha...so you were watching spongebob too.When i first watched that show,it really makes me laugh,and understand why my son was so addicted with that show aside from Tom and Jerry. Mickey mouse,i always like Mickey a lot...my favorite cartoon

Thanks for your responce friend and happy mylotting


• Philippines
2 Sep 09
Hi there, well spongebob is not my daughter's favorite although she know Patrick but doesnt like the show. She was addicted watching Dora the explorer, Barney and Friends, Pooh and sometimes Mickey mouse shows. She even imitated some of what she watched in the show, i am glad that she learned from the shows she was watching, i am supporting here whatever show she want to see as long as it is educational, by the way my daughter is less than 2 years only and addicted already to some of the cartoons show, keep on mylotting


• Philippines
2 Sep 09
Cartoons really catches toodlers attention,due to it's colors and cute characters. Toodlers were too smart nowadays,movies/cartoon shows plays a big role in toodlers learning...a very good visual aids for them,with good guidance. Your daughter i guess looks so cute when she starts dancing with Barney


•
2 Sep 09
The old classics are the best. I love Tom and Jerry, Bugs Bunny and Wyle E. Coyote but my absolute favorite is anything "starring" Sylvester and Tweetie Pie! I used to have a cat that looked like Sylvester (minus the red nose, of course), so I've had a soft spot for him all my life.

• Philippines
2 Sep 09
hehehe,minus the rednose...

you really made me smile friend. I also like tweety bird,thought it's a girl looks really cute nah.I had a friend who is a big fan of tweety,she has almost all her stuff with tweety pictures,like her shirt,bag,pen,notes,i doubt about her personal wears if there is also tweety prints in it hehehe. Thanks for your responce and have nice day always