I'm sooooo depressed and unhappy now

United States
September 3, 2009 12:17am CST
When mom started dismantling the crate she's been keeping me in, I thought she finally got the hint and is getting rid of it. I couldn't see what she was doing out in the kitchen because she keeps me locked up in my room. She even Tiggy-proofed the doorknob so I can't open the door anymore.

After much human-cussing, she finally came in here and got my litterbox, food/water dishes, and my blankie and left the room again with door closed. I hear her out in the kitchen doing something and thought I heard the crate squeaking. I was horrifed to find out she set it up in the kitchen and put me back in it then shut the door on me.

I've been purposely dumping my water and food all over and scattering the litter all over in protest of being locked in this god-forsaken thing and she just moves it to the kitchen so now if I dump, I HAVE to LAY in it. No carpet to soak up the water either. I'm mad/pissed/depressed/unhappy.
I should of listened to mommy and stopped running and bouncing off the walls/furniture. She feels that's how my leg got broke.
Mommy just tells me to shut-up whenever I start vocally protesting as well now. Why can't she see that I'm perfectly content to stay locked up in my room long as she don't lock me in a crate? Mommy's note to all concerned...In case anyone hasn't seen his previous discussions, Tigger broke his right femur in 4 places and has to wear a splint for at least 6wks. The vet also said he has to be caged so as not to make it worse by moving around excessively. There is a slim chance the splint will help his leg heal itself. He's only 3 yrs old so I'm hoping this works although Tigger feels he's being mistreated and unloved right now. If it doesn't, his leg will be amputated. If he bangs his hurt leg on something, he kitty-curses alot at it and will then rest for a while.
5 responses

• United Kingdom
3 Sep 09
Well Tigger you need to learn Sweetie, and your Leg needs to heal, Gissi would have got the same if he would not do as he is told If you can't do as you are told you have to learn the hard way little Sweetheart Mum is just protecting you and wants you better Love to you and get better soon Gissi here Tigger These Mum's can be just such a pain in the Butt, can't they? What you need to do when your Mum opens it to give you food and then make a dash for it fast that is what I would do and then Hide where your Mum can't get you, sorry you have to go through this my Friend

• United States
3 Sep 09
Hiya gabs...I know I know, but I just don't like being in here. If mom was to just leave me locked in my room instead, I would behave. I promise! Least then I can snuggle in mom's chair and keep it warm for her. Kitty kisses and purrs.

Gissi, my buddy, -purrs and rubs- When mom had my cage in my room, I was able to make mad dashes out soon as she opened the door but still couldn't go anywhere since she always made sure my door was shut before opening the cage door. psst- I've been watching mom and I think I can get the door open myself. It just slides up out of the hook thingys and swings up. Gonna work on it when mom is gone. I have a great hiding place. It's under mom's bookcase headboard. When she had to get me out back when I hurt my leg, she had a really hard time moving it to get to me. That's why we all chose that spot to sleep. Noone is too willing to bug us there. lol

• United States
4 Sep 09
-grumbling- I did indeed figure out how to open that door but mom caught me right when I was about to run for the bedroom and put me back. This time she's got these thingies on the door that go 'snap' when she closes them. I can't open those with my paws or teeth.




• United States
4 Sep 09
I am doing just fine with 3 legs, but it gets in the way whenever I want to jump up on the windowsill or turn around in the crate. I'm always hissing at it and telling to go away but it stays glued to me.

• United States
4 Sep 09
Pulled teeth?

Why on earth did your Meomy pull your teeth out? I hope my mommy doesn't do that. But then, I don't know. I love my Medleys so but only get it as a special treat every now and then. Guess that is one advantage to having no teeth. You get only wet food to eat. You should never bite your Meomy. I normally won't but I was in sooooo much pain that day that when she picked me up, it was instinct to bite what was hurting me more. I felt very bad afterwards and gave mommy lots of kisses,purrs,hugs to show it.


• United States
3 Sep 09
Aww--poor Tigger I do feel for you, but your mommy wants to make sure you heal your leg right and that's why she has you in that cage thing to begin with--you do want to get better now don't you and....... Meowy, meowy, meowy...Humpf...move over Mom I want to talk to my friend.... (pyewacket the human rolls her eyes up and reluctantly moves off the chair so Pyewacket can sit in the chair) There...that's better...I don't blame you for being mad Tigger. two years ago, my mom shoved me in a cage too when the electricians came into our dwelling to rewire the electricity...she was afraid I might run out...she says I'm way too curious. Anyway, it was only for eight hours, but I was sure mad at her...I wouldn't come out for two hours after the electricians left and she could let me out and when I did come out I gave her real nasty looks, and wouldn't talk to her at all. Hang in there buddy...it's all for the best

• United States
3 Sep 09
lol You tell her, Pyewacket. Humans just don't understand that us felines are way above the crate thing that the lowlife dogs are stupid enough to enjoy so much. Domingo keeps trying to open the crate Bugsy is in so he can get in it. What a stupid animal! Psst..Tigger FINALLY cried himself to sleep. The caterwawling was starting to get to me.

• United States
3 Sep 09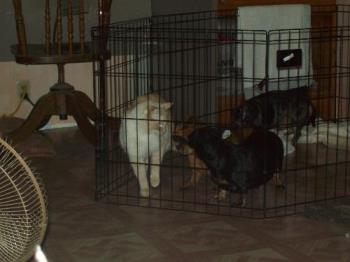 I am adding an image to make you feel a bit better. Willy isn't too coordinated, and the time I took the picture he had been trying to jump up to the top shelf of the bookcase. He didn't make the jump and slid right into the dog pen directly below. He wasn't happy!!!I know what it's like to having to be careful and take it easy for a long period of time, Tigger. I had a knee replaced and I am not healing properly and the pain is increasing (right now it is like someone taking a butcher knife and stabbing me in the knee). It seems like you're in the pen forever, but if you kick back and take a lot of naps the 6 weeks will pass quickly. Ask you Mommy for some cat nip. It really makes you feel better and you'll go to sleep a LOT! Also ask your mommy if she could wrap a towel around your bowl or find a bowl with a flatter bottom...it will help you not dump the water so much. It's no fun being wet! Purr, snortle, purr, snork, purr purr. Willy and Khuay are both sending you get well wishes. They know it's hard being penned up, but maybe your Mom will also post a Kitty Centerfold on your cage so you have something to look at and have additional incentive to get well quickly!!!




• United States
3 Sep 09
LOL Poor Willy! Least he can jump right out of that pen if the dogs will let him. Mommy thought of catnip but I go crazy with it so she nixed that idea on me. I sooooo love catnip. I didn't dump my water bowl last night but did scatter my food all over and left my litter in the box. Now I just caterwail all the time till I'm tired of it and then take a nap. Unfortunately, Mom is very good at blocking out repetive noises which means she's not listening to me.

• United States
4 Sep 09
This is a cute discussion yet sad at the same time. Sure hope your little Tigger gets better and doesn't have to lose that leg. I know pets think we are mistreating them when we have to do things like you mention. Hopefully his little body will respond well to keeping him in the cage and he's be fine.

• United States
4 Sep 09
I'm hoping his leg will heal as well but only time and Tigger will tell now. He no longer dumps his bowls or scatters his litter now that he's on vinyl flooring but still caterwauls to be out of there. lol

• Canada
3 Sep 09
I really hope things go well for Tigger. My Caligula had to go through an amputation a couple of years ago and it broke my heart xoxo Cyne

• United States
3 Sep 09
Thank you, CynergyFiva. Sorry to hear Caligula had to go through the amputation. At this point, I'm kinda wishing it cause this splint is really cramping my lifestyle here. I have to walk with it stretched straight back or it bangs on stuff and then hurts.