What type/model Birkenstock slippers or sandals do you like best?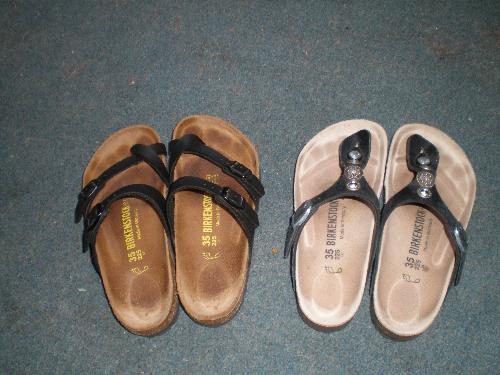 Netherlands
September 6, 2009 12:35pm CST
We have all seen the Birkenstocks out there; mostly the Gizeh type that looks like an upgraded flip-flop with a belt down the side. No offence meant, I like them, I just try to paint the people who do not know them a picture without sounding like someone who is trying to actually sells them

. Now there are A LOT of other designs aswell. I personally own two pair, one Gizeh and one Mayari. I didn't like the look of Birkies at first, but they are extremely comfortable. I also noticed that I have a better posture when I am wearing them and that I am able to walk longer without my legs or back hurting (because of the better posture). I have been wearing them to work daily because of the high comfort they supply. Share your stories. Love them or totally dispice them? What type do you like best or least? Anything else you would like to share about Birkies?
2 responses

• United States
9 Sep 09
When I was a child all the hippies had Birkenstocks and I thought they were the ugliest things I had ever seen! When they made a comeback later and all the new styles came out I didn't like them any better and I still cringe at the thought of them, lol.

• Netherlands
9 Sep 09
LOL, I must admit they aren't the most fashionable shoes out there, but they give me so much comfort that frankly I don't give a *beep*

. Pretty much function over fashion

. Off course everyone is entitled to their own opinion and I kind of like the fact that you have taken your time to make your point here

. We don't have to respond to just discussions we agree with, you have proven that. Thanks!

• United States
29 Sep 09
In that case, I hate those friggin Crocs and I wish men would stop wearing those stupid nylon flip flops in public!

• Netherlands
19 Feb 10
Like I said before, that's your opinion and your entitled to that. I don't mind, if I don't like men who are wearing them I just don't look at them

. Problem solved, energy saved for something more contructive, lol.


• United States
7 Sep 09
I mostly see people wear those double strap ones out here. I don't know how they'd stay on your feet. But then again, anything slip on usually doesn't stay on my feet. If they made some non-leather sandals though I'd probably at least try them since I always hear that they are so comfortable.

• Netherlands
7 Sep 09
Slip on sandals and shoes don't stay put on my feet either. I am not sure if they make vegetarian sandals, perhaps the glossy, pvc ones? I would have to look into that to make sure. Thank you for taking the time to respond!

.