How do u i become fat?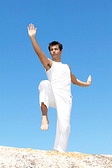 India
September 8, 2009 5:35am CST
Dear friends, I am extra slim. I have always wish to be little fat but it is never possible for me. Please suggest me some ways to become fat. THANX
6 responses

• Indonesia
8 Sep 09
what do you mean? getting big with "fat" or getting big with muscle? if you choose the first one, just simply adds junk food in your diet. you can eat chips, milk, sausages, or everything that consist of high fat. in contrast, if you wanna get big with muscle, just do exercise in gym, eat lot of protein meals, and sleep for 8 hours a night. good luck friend...

• Philippines
8 Sep 09
hi :) i had the same problem a couple of months ago. hehe i'm 5'2 but i weighed 85 lbs before. so i was really skinny! what i did was i ate 3 heavy meals and had snacks in between. i also drank milk at bedtime. i'd eat icecream, chocolates and lots of sweets. i also ate more carbs, protein and fruits. :) i gained about 10 lbs and i'm happy that i have some body fat already. hehehe :)

• Australia
8 Sep 09
If your metabolism says you will be thin, you will be thin. And ditto for fat,in which case losing weight becomes a major problem. Your best bet is to build up a little muscle. Lash

• India
8 Sep 09
eat my friend only eat and sleep and u will get fat soon. Eat especially oily stuffs or pure ghee food as ghee makes a person fat quickly. another funny method is sitting on a bear and this method has worked with my mom. She was as slim as a stick but now she is a fat lady. when we ask her how it happened, she always blames the bear. Actually its a saying in our place that children who are made to sit on bears become fat.