Woman is surrogate mom to baby gorillas!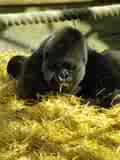 United States
1 response

• United States
14 Nov 06
OH how cool. Thats not fair. I would LOVE to do that. Im obsessed with gorillas and chimps. My whole house has Gorilla and chimps in it. fake of course. lol. This would be the perfect job for me....

• United States
14 Nov 06
lmao, i tell my hubby all the time when the kids get older i will work at a zoo. everyone remember my name. my husband says ill be on the news one day, women thought she was loved by all animals got ate today. lol. when we go to the zoo, i climb over the gorilla wall and jump in the cage so i can get a good pic. he just shakes his head at me. lol.