shareapic.com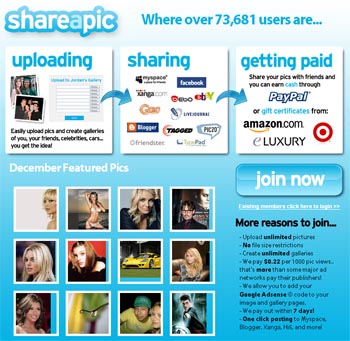 Italy
September 10, 2009 5:26am CST
Do you know this site? If yes, i have to ask you a question. When you join up, you can add about 50 different galleries. anyway, after uploading th photos and after getting the codes, your galleries appear NOT to be public. anyway i didn't manage to get my galleries public. do you know how to make them public? thanks
3 responses

• Singapore
10 Sep 09
I think they have to be approved by mods first. If I remember correctly, you don't have to request for approval. I think the mods check automatically. How long has it been since you uploaded your galleries? If it hasn't been long, you could try waiting a while longer and seeing if anything happens.

• United States
10 Sep 09
When you first join your galleries have to be approved before being made public. I have been there for years and mine now get automatically approved. However, I believe they are more strict on how long until they stop manually approving due to them now being in a lawsuit, which might also be why they are taking longer to approve the galleries. By the way payments have been on hold for several months now, so do not expect to get paid anytime soon even if you reach the $20. I still use them, though, in the hope that the lawsuit will be resolved and payment will restart, but also just because they are the only photo upload site I know that does not have limits that restrict me from uploading everything I want to upload or make me pay a fee to do it all.

• Italy
10 Sep 09
thank you veru much for your complete answer. anyway i won't be able for a payment for a very long time, because i am uploading the first photos in these days. anyway i asked other people if we can put the link to our galleries here on mylot. they told me that it is not correct because it could make us earn money. perhaps it is right. do you agree?

• United States
10 Sep 09
Yeah, it can take awhile to earn from them. It took my two and a half years to get my first payout, but the second one should only take a year, although it depends on if they take payments off hold by then. I imagine it would be okay to put the link to your galleries on your profile page here. Other than that might be considered spam.

• Malaysia
31 Oct 09
The problem with shareapic.net is that not all your upload gallery/pictures will be publish. another thing if you had upload pictures sometimes 50% of it will be deleted even it is not p*rn*graphy. These site still have bugs often maintenance and system down recently most of the members gallery were deleted due to bad system backup. Payment on this site is on hold so members as of this moment can not cashout. Alternative, here new site similar to shareapic but paying http://sharedimages.org/signup.php?ref=97626 optional for you to include the ref link.