Don't you just love them?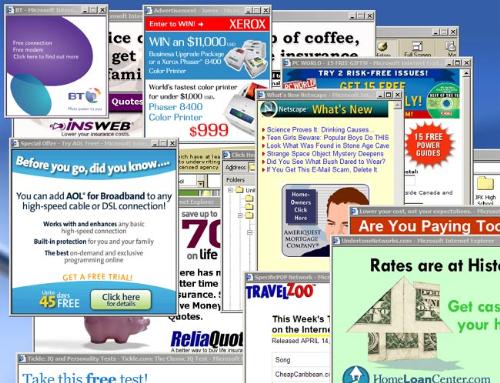 United States
September 11, 2009 4:32pm CST
Pop up ads that cannot be controlled. I have all my browser windows closed and I'm sitting there playing poker when*WHAM* here comes an ad and it automatically opens up Internet Explorer! WTH?? It covers the whole page and I hear the poker game beep telling me it's my turn to bet or check or whatever and I can't get to it because I'm closing a window when another one pops up to take it's place, covering the darned screen

Don't you just love them ads that you cannot control??


8 responses

• United States
11 Sep 09
I don't know how it happened but I never get pop ups any more. I think it has a lot to do with sites that we visit.

• United States
11 Sep 09
Okay Fwid, I'd check for viruses, as it seems you have one. Your IE shouldn't be having pop-ups when you aren't even using it. If you end up with a pop-up tab that covers a lot of the screen or all of it, you can use Alt+Tab to switch back to your other screen. If you have to, you can use alt+F4 to close the pop-up window (most times). As a joke I'll add... "Internet explorer lol!" - Alright I can understand some people still using it, but firefox as an IEtab add-on which loads pages as if it was in Internet Explorer. Still, it seems like you may have a virus or a program causing these odd pop-ups.

• Australia
12 Sep 09
That's enough to get anyone wild - including me!! I get some pop-unders from some websites I go onto & as soon as I see them, I close them but have never had that problem when playing a game - which I only do rarely as I need more time in the day for that.


• Australia
12 Sep 09
Tell me about it & the bad thing is, if you're too engrossed in what you're doing, you don;t notice the extra screen open!! GRRRRRRRR!!

• Australia
1 Oct 09
Hey, Yes how I adore them, not! I am also sick and tired of websites having those stupid pop ups that keep on appearing. And some of the time, the pop ups that actually appear, are not G rated, they are more rated near the end of the alphabet. Make sure you have a good day, God bless and Happy Lotting!!


• United States
30 Sep 09
I hate those and the flashing ones. I've actually complained to MyLot when they had the constantly flashing ones...they really hurt my eyes. Thankfully they come up much anymore...now if they would just get rid of the talking ones, I'd be happy. [b]~~AT PEACE WITHIN~~ **STAND STRONG IN YOUR BELIEFS**[/b]

• United States
13 Sep 09
Well i have never gotten one of those popups, but i know how you feel... I play a Game called Soldier Front and when you launch it, its full screen and you cannot alt+tab or else it will close... So all the sudden when im playing a yahoo IM message pop's up and BAM the game Closes Down =] Lol... thats why i know how you feel

• United States
12 Sep 09
It sounds like you have some spyware or adware on your computer that is doing that. I fortunately don't have that problem. I am a Mac user. Do you have a firewall set up? Some anti-virus software? Your computer needs a checkup

• Israel
12 Sep 09
well, I really really hate pop up adds. that's why my father got this program for me (can't remember the name of it, though) and it controls all pop ups. when something comes up, the program blocks it and shows me there is something waiting for me to open it.