A new "green" crocheting project has me "hooked"....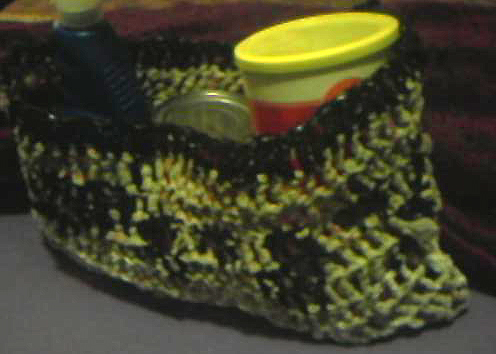 United States
September 14, 2009 8:54pm CST
hahaha....i didn't even mean to use the pun "hooked" but as i was typing it occured to me how funny it was.... Anywhooo. So, i work in a grocery store, and as many of you know, or have noticed, using re-usable totes and bags has become the biggest thing now. Keeping more plastic and paper from being wasted by using re-usuable totes is the eco-smart, green thing to do now. Well, the other day i was heling a customer find something, and she had her own bags in her cart, and i noticed one of them was actually crocheted out of old plastic shopping bags! i got to talking to her about at, and she said she didn't make it, but a friend of hers had, and she let me examine it. So i got home and decided, you know what? i have about a gazillion and a half (well, not that many..but you know..) plastic bags tucked away under my sink that i try to re-use instead of just throwing away. But there are only so many times you change the cat litter box or need a small trash bag for the can in the bathroom...not nearly enough to use up all the bags! So i decided to figure out how to make one of my own. I have never been good at following actual patterns, i learned to crocet by watching, not by reading (hence why i generally can only make things that are square or rectangle in shape...perfect for afghans and scarves..not so good for sweaters or shawls...) Anyway, i looked up on line, just because i needed to see exactly how the bags were taken apart, and i figured i could figure it out from there. Basicly, you take a plastic shopping bag, cut off the bottomand the handles, so you have just a tube of plastic. You take this tube and cut it into loops about an inch or so wide (i have found accuracy doens't matter, as you can tell once you crochet it) then loop them together, slip know style, creating one long, double strip of plastic bags, then you crochet with it just as you would yarn. It has actually gone along quite well (i am including a picture at the end of my post) I am not done yet, but amazingly i have used up all the bags i had saved. The websites i looked at said that you would probably wind up using about 30 bags for one tote. I have lost track of how many i have used. But here's the bag so far, i tucked a couple items in it just so you could see the apporx. size. Obviously i am not done yet, but it is amazingly strong, has a slight stretch to it. The hardest part will be making handles. Haven't figured out how i am going to do that yet. If you really want to get creative, you can create a pattern with differnt colored bags too!
8 responses

• United States
17 Sep 09
Yes, it's a great idea to do. They do get weak after a while and begin to stretch, especially if heavy items are carried. I suggest that if you have yarn scraps, to add those in throughout the piece. It'll look odd perhaps but should extend the life of the plastic bag. Me, I'm odd anyway. I'd use it.

• United States
17 Sep 09
Thanks for the idea on how to strengthen it! Though as long as i can get uite a bit of use out of it, i will be happy! I walk to and form the store mostof the time, so i am always looking for a sturdy bag in which to carry the items i have purchased.


• United States
16 Sep 09
Hmmm...that would work too i suppose, but i think i like the durability of the coubly ply material for a tote. Yes..you could make yourself a very cute blue one!

• United States
15 Sep 09
I absolutely love your idea! It is something I'm going to try...somewhere along the line. I currently am busily making teddy bears to sell so I am caught up in doing that. Here is a couple of off the wall suggestions for handles for the bags. How about old men's ties? You don't need to do anything but hook them through the sides of the bags and tie knots at the ends. Also old belts, scarves, hand bag handles, belts from coats...I like the tie idea and that is what I would do with mine... the ties wont' stretch and you can change them when they wear out. I've bought ties at the thrift shop for 25 cents each. Plus it carries through with the recycling theme. Also, you could rip old sheets into strips to crochet into handles. The fabric won't stretch as much as the plastic bags would. I crocheted a purse from strips from an old sheet, I took second place with it at the fair.

• United States
15 Sep 09
The tie idea is a neat one....especially if i can find a friend who has some old ties they are wanting to get rid of as they are outdated or unwanted or something...will definately keep tht in mine, especially when i make the all black one that i am going to make next to use as a purse! I am going to make it out of garbage bags. I have a box of really cheap garbage bags that has been sitting around forever as they really aren't very strong and i don't like to use them, i bought them by mistake a keep them for emergency uses when i run out of the good ones. I am thinking that with the black shiny plastic, it will make a really kewl looking purse..and a funky designed tie would make the perfect strap for it. Thanks for the idea!!

• United States
20 Sep 09
Thank you for the best response! It is wonderful finding that I have earned a BR. It's like a huge smile when it happens. I haven't gotten to attacking my collection of plastic bags, but it will come around Thanksgiving when I have a few days off. Thank you for the ideas and above all the BR.

• United States
16 Sep 09
I crochet with plarn a lot and I have loads of bags, I can't bring myself to throw them away. You should see me drool when I see a bag of an unusual color, I save all them, someday I'll use them. I found a site in which the author uses plarn on a knitting knobby. You know those things that have four, five or six nails on top of a tubelike thing and you wrap the yarn around each nail, then draw the yarn over a strand above it? PM me and I'll send you a link to the site, it was rather interesting, only I'm not sure what I'll do with that big long cord. If you PM me put Plarn in the message so I won't delete it thinking it's a spam message.

• United States
17 Sep 09
yes, i think i know what you are speaking of, but i, like you, am having a difficult time coming up with something that i could then use this cord for. hmmm....there has got tobe a wonderful idea for it somewhere. We will just have to keep thinking!

• United States
15 Sep 09
Hi fruitcakeliz! That bag is really cute! I love to crochet, and am also interested in being "green." And like most everyone I have a bunch of plastic shopping bags. I really think that I'll try to make some of these. Do you think you could make the handles out of a couple rows of double crochet? I like to sew too, and I've made some reusable shopping totes out of old jeans. Thanks so much for sharing this!

• United States
15 Sep 09
I was thinking about that..but i am just afraid that as the bags still have some "stretch" to them, that if i were to use them for groceries, they might not last long before snapping. I was thinking about maybe weaving some twine or something through the top row of stitching and the handles to re-inforce it. I would love to get ambitious enough to get into sewing, but i am SO not patient enough with the measuring and cutting and stuff. I have ALWAYS wanted to be able to quilt as well. Maybe i'll just have to buckle down and forse the patience upon myself!

• United States
24 Sep 09
Hi, you can do a search online for "plarn" and there are some very good blogs on cutting the bags for crochet. And some do have patterns for those that need patterns like I do. When I was a kid, we always got paper bags which wouldn't work. But my mom would do the same thing with bread type bags. But she would make small area rugs out of them. These were wonderful for wipping your feet when it was wet,snowy, or muddy. And also in front of the sinks. They're easy to clean, just run them under water and air dry. Another big thing is making strips out of old t-shirts and crocheting them into new things. Because they are stretchy I wouldn't make a shopping tote from t-shirts though. I also love crocheting and appreciate you sharring. Always wonderful to learn something new.

• United States
25 Sep 09
i had never really thought of making rugs out of them, but i could totaly see where that would be an awesome project!


• United States
20 Sep 09
wow..that IS an awesome idea! A beach bag.....as you said who cares if it gets wet, and easy to clean any sand and stuff off of! Tat is my goal...to have some made by cristmas, and use them as re-usable christmas gift bags. They might not look the prettiest, but at least they can be re-used..

• United States
19 Oct 09
I know this is a bit off the subject, but I've noticed you said your having trouble finding a good use for the plarn. I once saw a pattern for a bag made out of vhs cassette tape! Well it was a purse, so let me clarify there. You could always make purses as well as tote bags, or you could make makeup bags as well.