he lied

United States
September 15, 2009 10:53pm CST
alok lied about so much i am finding out. he tricked me the entire time. he had never had any intention of marrying me. he hadn't even told his family about me, he didn't send the letter. he just didn't want me to leave. selfish. how can you love someone and do that to them? for such a long time.
7 responses

•
16 Sep 09
I'm so sorry to here about this!You don't deserve to have been treated this way! Well out of order!Unfortunately some people cannot see past their own selfishness. They don't know how to love (properly). Hey, if he is like this, good job you found out before you commited to spending your life with him!! - Don't worry, It will take time but you WILL get over this experience. I know i's hard but see if you can forgive what he has done (I doesn't make it right or make you wrong but it does set you free from the past hurts and you will be able to move on - he will find out one day what it's like as what goes around usually comes around) I really hope you will meet someone who is genuine , someone you can trust, who is worthy of you! :-)

• India
16 Sep 09
These things happen. It was wrong of your boyfriend to break your trust and tell lies to you. Maybe he was not sure he wanted to marry you. Aren't you lucky the you discovered this about him before marriage and not afterwards? Take it as a learning lesson in life and be more careful before you trust someone.

• Delhi, India
18 Sep 09
HI! Who is Alok by the way? There is one mylotter with the log in name AlokN, are you referring to him? I think whosoever did it to you was not a nice person and cheating someone shows that a person has some devilish tendencies and one should avoid these kind of persons. dpk PS - You look very beautiful in your avatar.

• Philippines
16 Sep 09
If the guy can not fight for you or be proud of you, then he does not love you at all. You should not pity yourself because you know what you are and how much loss he will have when you finally split with him. You should show him that it is his loss that he lied to you.

•
16 Sep 09
I am so sorry to hear about it. But if you can sit and think clearly mistake can never be solely ones deed. If you have been more careful maybe you might not be standing at this juncture. Often people who get hurt start blaming the person who hurt them but fail to see the fact that if they only have been more careful with it the mistake might have never happened. I agree that in a relationship you should trust your partner. But that doesn't mean you have to trust them blindly. You have to be more careful with such things because at times these things seem so tiny that u think even if they went wrong might not make much of a difference but then too many tiny mistakes pile up to hit you hard. Be careful and ditch the guy. Person who can never respect your trust and value doesn't deserve your love. :)

• United States
16 Sep 09
I'm sorry you're feeling heartbroken. In the end, I think you'll be better off. I don't know you but I'm sure you deserve someone who will love and cherish you, not lead you on for a long time. Best of luck... in time...the pain will lessen.

• United States
16 Sep 09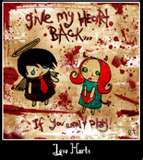 Some people are just like that. Just think of yourself as better off...Better off that it wasn't 10 years and 3 kids down the road!!! Things happen for a reason! Keep your head up!