doesnt anyone have any tatts?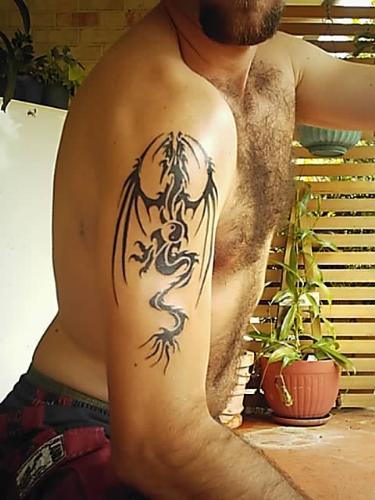 Australia
4 responses

• United States
16 Sep 09
Hi fezman! I've got 9 tats, three of which are new. The pics are posted in my photos. I'm new to myLot, and don't know how to post my pics to a comment yet. These three tats I got in the last month or so. I've got a naked bat-winged succubus standing outside a crypt in the moonlight on my back. She's torn a man in half; the lower portion of the man is on the ground, and she's holding the upper part of the man in her left hand and with her right, she's eating his intestines.

• Australia
17 Sep 09
hi matsulori! first of all, thanks for responding its always nice to get a response to something thats close to you (imbedded!) second, i had trouble, major trouble trying to put a picture up over the little white dude and green background and started disscusions about that, one of my problems was that my photo sizes were to big to go on this site, second was i was in the wrong place! you gotta go up to preferences up top, browse for a folder in your computer that has the photo u want to up load and select it, that takes care of the white dude. as for posting next to your started disscusion, down the left bottom is add an image, same process really, as for posting a pic next to a response.... not to sure maybe someone can shed some light on this? oh and by the way that tatt sounds sick, ill have to check them out,

• United States
17 Sep 09
Hey fezman! My succubus isn't yet posted as she's not finished yet. When she is, I'll post her, though and let you know. She's my way of saying Don't fu
@k
with me; I fu
@k
back. The three that are posted are a huge Celtic tribal piece on the back of my neck, and matching tats on my inner lower arms, below my elbows, the right says as above, and the left says so below, and there's a Celtic pentagram below each. Those are the pics I have posted here. I love my ink, all of it. Even my "Hurley" which is blasted across the top of my back -- but my husband doesn't like it, as it's my married name from my ex. So it will become cloud cover for my succubus, but that's okay. As long as it looks good with my succubus, I don't really care much. What other ink do you have or are planning on getting?

• United States
17 Sep 09
BTW I just took a look at your dragon. Fantastic. It looks great.


• Philippines
19 Sep 09
Hi fezman, I guess you were right. We do share something in common aside from metal bands. I have 6 tattoos, but they are all small.lol on my tummy, behind my ears, at the back part of my neck, under my tongue and behind my lower lip, hehe pretty crazy, right. Well the reason why I kept putting it on odd places cause I really got addicted to tattoos but don't want to end up looking like I just got out of jail or something.lol So I always try to make it as hidden as possible but still not to the point where I have to place it on my sensitive area..hihihi

• Australia
20 Sep 09
yea i dont think ill go that far either! but you did your tounge??? thats just plain OUCH!!! isnt it? same as with lower lip, i dont think i could go that far, or maybe.... does it hurt as much or more than regular places? and just inqeury but what did you get done there?

• Philippines
28 Sep 09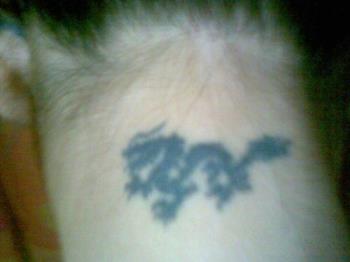 And here's my own LITTLE version of a dragon tattoo. haha I know it will probably look like a worm if I get near your dragon tattoo.lol I'm so freaking happy to try this uploading thing. hahaha But I'm trying hard to restrain myself since we all know that any photos here goes out public. =(


• United States
16 Sep 09
I have two tattoos... And I am thinking about a third... I just don't have any idea of where to put it!

• Australia
17 Sep 09
well it all depends on where the first two are, how big, and what of, then that would narrow helpfull suggestions down a bit, good luck on trying to find a spot! and thanks for responding.

• United States
17 Sep 09
Well...I have a ankh with wings on my back! The upper part of my back and a triquetra on my wrist! Maybe I'll post some pictures up one day! Have a good day!


• United States
9 Oct 09
I have about 4 tattoos, I just got a new one about a week ago. The only thing is my wrist got all dry and stuff so it doesn't look as good anymore, but it does look like it's older. I love getting tattoos and plan on getting some more in the future, just need to figure out where I want it and what I want.