LG Viewty Smart or Sony Ericsson W995?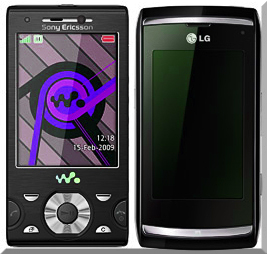 September 16, 2009 11:25am CST
Hi mylotters, I am currently in the market for a new phone which has a good camera (both these have 8MP), Wi-Fi (both have wi-fi) and can play good sounding music. By random searches online I have come to the conclusion that these are the best phones in their fields. The Viewty for the camera, the W995 for the music, but I am not sure which I should get and so I was wondering if anyone has either of these phones, and if they would recommend it? I think looks wise I really like the Viewty, but reading reviews it sounds like it is a pain in the neck to use. The W995 has the better reviews, but it has a much smaller screen and doesn't look as sleek as the Viewty so I am not sure. Any help you can give me shall be amazing! Many thanks for the responses, Dranz

PS: Looking at that picture of the two together is making me feel more drawn to the W995 now, I just wish it had a bigger screen

lol!
2 responses

• India
16 Sep 09
when given a choice btwn sony and lg i will allways suggest sony .....

•
16 Sep 09
Hey Pratapraja, You know, until you said that I never actually figured that Sony Ericsson phones were made by Sony, I tend to read it as one word and a different company lol! I will definitely keep that in mind, thanks for the input

Dranz


• India
16 Sep 09
i suggest u to get Sony Ericsson W995 , sony phones are good compared to LG.

•
16 Sep 09
Hi Vinocitd, I am thinking I will at this rate, people really seem to hate LG phones lol! Thanks for the response, Dranz