Can you differentiate earning money and earning from investing,?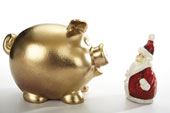 India
September 18, 2009 11:27am CST
Dear loter We all are earning money for our family. Also try to earn money in other means also. But can you say how many people we save money for our future.I belief
investment and saving are both required for our life.
we must also secure our child future as well as our old age what do you say.Please share your views.

Raju Paul
5 responses

• India
18 Sep 09
Of Course! Money is needed in life. Saving and investment are also a necessity of life. However one needs to draw a margin on money matters and stop to enjoy our earnings. Otherwise what use is the money to us?

• India
18 Sep 09
Normally earning means what we get as salary, wages etc from any kind of job, profession we are engaged in. After expenses what is left over is savings. these savings needs to be invested. Investments generate higher than usual returns if deployed correctly in the right instruments. Investments always carry some amount of risk. If risk is managed well, then it will deliver good returns over a period of time.

• India
25 Oct 09
To be able to make much more from the money which is been invested, needs first of all to be earned ,right.I feel,all are running and making their life fully adapted to be able to make their life and other people's life relating to them,as comfortable as possible. This as you said need both,earning a much as possible and at the same time investment too.Getting on with the planning will be the only thing that can make any one successful in any field,hoping for a better life and future of all,money has a got a big and majority of the role after all.



• India
18 Oct 09
Hello my friend rajupaul Ji,
Earning money can be termed as direct out-come from one's labour / efforts made by oneself, whereas in investment, our earned money makes proprtionate profit from people whom on emight have invested. So that earned money is not one's direct efforts. But it is dangerous to rely upon. Recently RIL announced bonus share 1:1, it means money earned by additional shares has nothing to do with direct labour and efforts by any of share holders as an individuals. May God bless You both and have great time.


• Malaysia
19 Sep 09
hi raj i don have enough money to save .. but lucky me, my hysband is attached wth the government which means a secure income till the end cheers