What made you decide your SIGNATURE??

India
September 19, 2009 3:17am CST
Hey friends!! Well, the title says it all. I was just wondering yesterday when I signed for a consignment, that when did I decide what my signature is going to be!! I've been very passionate for designing since childhood and when I was a kid, I wrote my name in different styles and my signature is one of those designs. I would like to know from you guys, when was it that you decided what's going to be your identification, the signature?!
7 responses

• India
19 Sep 09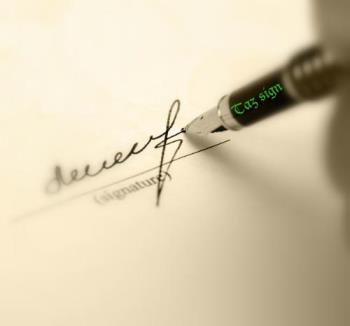 When I was in my school, I was asked to make signature, but I never knew what to make & I figured up something. the same year, I was supposed to apply for a passport & I've made the same signature. When I grown up,even though I didn't like the signature because it was not so stylish(like me

) & also because it was easy.But since now every where it's the same signature, I think I better go with the same

Happy Lotting

• India
19 Sep 09
Yeah, same happened with me. I always wanted to change my signature but couldn't do so as it became my permanent signature in school and on my driving licence. Never mind, my present signature isn't THAT bad!! Cheers


• Philippines
19 Sep 09
Like you, since a kid that ahs been an issue for me, I want to come up of a good and pretty signature. lol. As I grew up I just had a thought of my signature which composes of my initials. Unfortunately, we have the same initials that of my mom's! And the funny thing is, I made a signature which was exactly that of my mom's! lol. I had to come u p of another good signature all over again.

• India
19 Sep 09
Lol, that's amusing. Similar thing happened with my sister, her initial is "K" while my Mom's initial is "L", inspite of that her signature was very similar or rather hardly different, but she didn't change her signature!!

Thanks for responding!

•
19 Sep 09
Hello whizkid You know in school my teacher always gave us star sign if we do good in anything, and that star was my lucky thing, i use t love it when my teacher gave me 4 stars at school it made me feel that i am a hero.From that i decided that my sign should be made up of a star sign so that i can feel a hero like always.My name starts with A and a star is easier with A :)

• India
19 Sep 09
Thanks for your response and thanks for sharing your memories.

It feels so ecstatic when we recollect those childhood days. Even a little star made us feel so happy!! Your signature must be really unique and different.


• Malaysia
20 Sep 09
hai whizkid08, when I was young, I always try to find the long-complicated signature just to show mine is the one of a kind out there...as I grew older I prefer far more simple-short signature--especially during my college years, so that friends can help me sign the attendance sheet whenever I ditch classes... as for now I had to have a should I say 'appropriate' signature, since my profession requires me to do so, Its not what i choose though (kinda miss my old signature so bottom line, i like it simple and short yet have the distinction so that nobody can copy mine..

• United States
19 Sep 09
Hi, This is really a good question. I am inspired by my favourite celebrity lady in my school days but then I was unable to copy that because of different initials and fortunately after marriage my initials became the same. Good luck Roshni

• Estonia
19 Sep 09
Hi, since I was a child, I always looked how my parents signed different papers and documents. Then I started to think about my own signature. My first signature design was ready when I was about 8 years old. I have used it for several years, but never really liked it indeed. I have got my permanent signature, that I use till now, when I was about 14 years old. I think I could make some better, more sophisticated design for it, but the one of use now is quite simple and accurate. So I'm rather satisfied with that.