can u forgive ur partner if u found him or her cheating on u?

India
10 responses

• India
19 Sep 09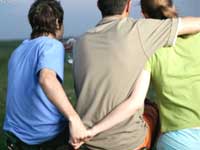 A simple answer, It all depends on the
love factor
. If she loves me a lot & I too loves her a lot & if I feel that her love is true, I can forgive her any number of times. This is because for some people, they have a character of flirting with people & this is genetic!. So it's not that easy to overcome this behavior. A girl/boy will love you more than their life, but sometimes hang around with others because they like it & not because they don't love you. If the are really cheating on me & doesn't love me, as in many cases, I might forgive her for the first time but the next time, I think a break up is a better option. Happy Lotting


• India
21 Sep 09
okk so flirting is gentic. r u a biogenetic scientist??

• India
21 Sep 09
Bio genetic scientist!

Even a man sleeping at footpath know that flirting can also be genetic. I wonder why you didn't know about it even being such a smart one!!


• India
23 Sep 09
sorry dude everything is not genetic. its the situationa nd our company make us frirty its not genetic. consult a doctor for it.

• Canada
23 Sep 09
You know that can be a really difficult question to answer, because it's not always black and white with couples. That would depend on so many different variables. Now if it were a one night thing, yes I think I could probably forgive him, but if it were say an ongoing thing that went on for a while, I don't think I'd be able to forgive that. The thing is even if your partner were to break off their affair, how would you really know that you could trust them enough not to do it again? You really wouldn't know if you could, because you wouldn't really know if they were sincere about it or not. Well, if I ever caught my husband "doing the nasty" behind my back, I would first obviously confront him about it, and if he were going to stay with me, I'd insist he have an aids test, because lets face it, when you're involved with someone, you are essentially sleeping with all their other previous lovers.

• India
23 Sep 09
ya ilyzium i am supporting ur point. aids test is necessary if such things happen continously.

• Canada
22 Sep 09
My girlfriend has cheated on me a couple of times and I have forgiven her for it cause I love her and I can't see my life with out her.

• India
23 Sep 09
oh how nice david u relly have a big heart. i wish u get same kind of love from ur girlfriend

• China
19 Sep 09
I think yes.but, I'm the type of person who doesn't easily forgive. I'm confident enough that in the near future my partner won't gonna cheat me.

Breaking up with the one you love is not easy. I don't think it can help to solve the issue or lessen the pain. Weigh things first before deciding and loosing someone that you truly love.

• India
19 Sep 09
ya mam.one should think before keeping all matters in mind but still its hard to forgive.

• Philippines
19 Sep 09
Sometimes, people have to forgive and forget. After all, not all actions are done beyond their true knowledge. Some, out of emotions like anger, sadness, depression, or anything else might be the result of these things. What she has needed is to first ask why. Let him/her explain. I know it is hard, I know the feeling of being cheated and really you're so sad you just want to let go. If that's what you feel, let go for the time being, if you have enough courage to forgive him, and if you see he's really sincere enough, and most importantly if you still love him, then go for it again. Sometimes happiness comes through risking. And life really has a lot of patches in the way, you cannot avoid them. People make mistakes, and that includes yourself too. So think of it really wisely. :)

• Romania
19 Sep 09
I`m one of them . I will break up if something like that will happen , but i really i will not live that, because isn`t a good feeling . When somebody cheats, that means that he/she don`t respect you, and will not respect you from then too . Even if i will be engaged i will divorce, because this it`s maybe the only thing that will make me divorce quick . All others can be talked and you can find a solution with your partner, but when it comes about cheating, you don`t have anything to " negociate "

• India
19 Sep 09
thnks delkar. i am with u there is no negotiation on cheating.

• India
19 Sep 09
yes i ll forgive her... first i ll see whats the problem.. is the problem is with or with her.. i ll sit and talk to her.. i ll once again show her how much i love her.. she too loves me na so she ll definitely understand... and i ll cheat on my lover i coulndn 't think of such a thing too .


• India
24 Sep 09
She did the right thing by breaking up, love is all about trust and faith and if the partner is cheating then ther is no real point in continuing with the relationship. i would have done the same thing and for that matter most of us who are serious would have done the same thing.