How often!!

India
September 20, 2009 2:39am CST
Hello friends, i'm a pure vegetarian and i just want to know something about your meal. How often you take meat with your meal and which time you prefer to take meat, Breakfast, lunch or dinner ? Can anyone share this with me.
6 responses

• Philippines
20 Sep 09
My m0ther is also a vegetarian but We use eat meat atleast 3 times a week, and i preFer it for dinNer.

• Philippines
20 Sep 09
Yes it is, we are alm0st a vegetarian family; there are times that my m0ther didnt serve meat on a week, My m0ther kn0ws how to c0ok meat. she just d0nt eat it.


• India
20 Sep 09
I am non-vegetarian. Even after talkin that there i feel guilty. but one thing i would say the taste it has really makes me every time doing this sin. I mostly go for kawabs in my city which have been shown many times in discovery channel and liked by many celebrities from all over. And i am passionate about it. But i am a bit religious my days are set when i go for nonveg and in any festival i dont go for this and some months are there when i dont go for non-veg. i can say that most of the time i go for non-veg once in a month or once in two months. And in my home in a year time comes for this only one or two times.

• India
20 Sep 09
Dear Mrinali, I am a non-vegetarian and take meat about three times a week, mostly at dinner.As I have to go out for work, the lunch I usually carry is vegetarian. However, in India we have such fantastic cuisines wherever one goes it is preferable one tastes all kinds of food. Frankly, the food traditionally eaten at a particular location has normally something to do with the climate of that place, so that residents of that area maintain the best of health and make optimum use of whatever is available from the area. Our food habits have arisen from these roots. Nowadays, of course with modern communication almost everything is available everywhere( at least in the major cities and towns) and food habits are also changing.I have seen my friends turn from vegetarians to non vegetarians and vice versa. For me good food is welcome whether it is vegetarian or non vegetarian.

• Germany
20 Sep 09
Once a day at most. either lunch or dinner. breakfast, while an important meal isn't meant to include such a heavy thing as meats. but then i may have one meal including meat once a day which is either lunch or dinner. not every day I have meat though. out of 7 weekdays, i eat meat 5 days at most.

• India
20 Sep 09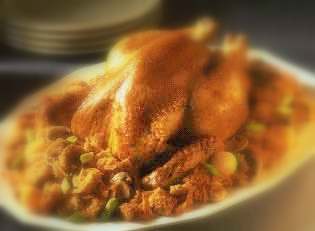 Since I'm a pure Non- vegetarian, I always prefer non-veg food.

There is no question that you can't find any thing that tastes better than non-veg & according to me, my life is incomplete with out non-veg. Happy Lotting