The weather gods have gone mad in Australia!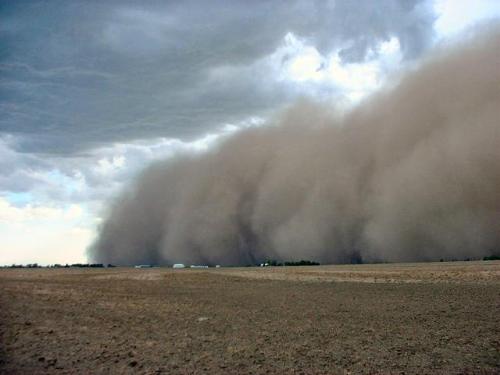 Gold Coast, Australia
September 22, 2009 8:24pm CST
There has been some crazy weather over the last 24 hours here in Australia. Fires in Queensland, Floods in Tasmania, Earthquakes in Melbourne, Dust Storms in Sydney and a Hail Storm in country New South Wales. I am on the Gold Coast in Queensland and it is very warm and windy here today...definately good fire weather!! Oops, just looked outside and the dust storm is here as well! The sky is a dirty yellow colour and visibility is very poor!

So let me know where you are from and whether this weather is affecting you!

(sorry, could not help the play on words there)
6 responses

• Australia
23 Sep 09
yea mate your not wrong, i live in bli bli, and work in kunda park (both only 10km from maroochydore) and at around midday today i was outside, i looked up and wow! a huge cloud coming directly for us from around about brissi way, well that cloud is now black from lack of sun, but its still chokey, coughy weather outside. i had to don a dust face mask for the dust was seriously getting to me!

• Gold Coast, Australia
23 Sep 09
It should be clear again tomorrow I reckon as it seems to be clearer outside now! I can see stars and the moon so that must mean it is over! What a bizarre day!!!

I watched the start of the news on TV tonight...at least it was not as bad as Sydney here. I remember a dust storm from a few years ago that came through here at night so I missed the storm, but in the morning there was a coating of red dust over everything!


• Australia
23 Sep 09
hopefully it will be better tommorrow, i can see stars out tonight too! if it isnt better by tom, im calling in sick!!! i couldnt handle the couple of hours i was out in it today, i had asthma as a child and it really started to come back on me here and there, it was horrible, and the worst thing was that if i left work there and then i would have to explain my actions (alot rides on my shoulders sometimes) plus i didnt want others to start calling me a wuss!! ha

• Gold Coast, Australia
23 Sep 09
On the radio all day today they were advising anyone with a history of Asthma to stay indoors. My poor kids had friends over today and had to stay indoors for the middle part of the day when it was at its worst! I work from home and spent most of the day locked away in my garage, but still had a slight headache and dry throat most of the day. What do you do for work?


• Australia
23 Sep 09
My partner and I were, literally this very minute, standing at the back door and looking at the dust (or is it smoke from the fires) that have, as you say, turned the sky that dirty yellow. And this after I have just praised Australia in another discussion for its good weather and lack of earthquakes lol. Lash

• Gold Coast, Australia
23 Sep 09
LOL...yep it is weird that all this happened in the same day! Apparently the dust has blown all the way from Lake Eyre in South Australia and is steadily heading North East! From what footage I have seen online of Sydney, we are not as bad here, but it is getting worse!


• Adelaide, Australia
3 Dec 10
Uh, yeah, sorry about the soil

. No, hang on, on second thoughts, you're going to have to give all of our precious top-soil back

! We need all we can get

!

• Gold Coast, Australia
3 Dec 10
You can't have it back as I already used all the minerals from it in my garden!


• Australia
31 Oct 09
A few weeks ago I was in Sydney the day after everything was orange, but it was still VERY dusty. I was in Melbourne a few days later. The plane had difficulty landing in the gale force winds. Then they had trouble attaching the steps to the plane and could only manage the front steps. We were warned not to wear anything loose and soon found out why. We could hardly walk in the wind. Then two weeks ago I drove to Townsville and we passed a number of burnt-out areas. We left Townsville an hour later than planned, but had we left when planned, we would have been stopped at Carmilla. They were still finishing off the fire there, with the road just re-opened. The bushfire had come right up to the road and jumped it in places. [i][b]I love a sunburnt country, a land of sweeping plains, Of rugged mountain ranges, of droughts and flooding plains. I love her far horizons, I love her jewel-sea, Her beauty and her terror - The wide brown land for me! Core of my heart, my country! Land of the Rainbow Gold, For flood and fire and famine, she pays us back three-fold.[/b] [/i] (excerpts from My Country by Dorothea Mackellar OBE)

• Gold Coast, Australia
1 Nov 09
Yes it certainly is a land of extremes this one. We had fires everywhere here too a couple of weeks ago and now it is raining. Things are greening up finally!

I love that poem. It sums up Australia pretty well I think!

[em]

• Philippines
23 Sep 09
am in the southern part of the philippines and i am very lucky to be out of the typhoon belt. but we are not spared by flash floods every time there is a heavy rain. sometimes i get to go home and had to waddle in a knee high flood in the street road. and i am living in the city. some residents on the lower portions near the big river always are in danger of bigger floods specially if there is rain in the upper lying farms. just a few months back, there was a big flood which affected about 2,000 families and they had to be evacuated. there were a few that werent lucky though about 6 or 8 that were announced drowned. some families were rescued on top of the roof of their houses. so i guess that is the only calamity that is ever experienced here. thank you for this discussion. ann


• Gold Coast, Australia
23 Sep 09
Thanks for your comments Ann, I am always seeing footage of these types of floods in your part of the world. We get bad flooding like that here too, but not so bad in the city that I am in as they have good drainage these days. The other danger aside from drowning is the spread of diseases from sewers overflowing into the streets and waterways!


• Australia
23 Sep 09
I am here in Perth far away from everybody and here we are still wondering where spring is and whether the rain is ever going to stop! The rain was welcome because we've had water restrictions for ages but now I am sick of being cold and wet! We've had hailstorms not too long ago as well. It fells like something really weird is hovering above us causing all sorts of havoc!

• Gold Coast, Australia
23 Sep 09
Yeah Perth is almost like another country it is so far away! I would love to visit there though as I hear it is a beautiful city!

We have a lot of customers there, I send stuff there every day! We have had a dry couple of months and I am looking forward to some rain! Everything is really dry here and bushfires are starting to pop up. The fire fighters could not fight the fires with their helicopters here today as it was to dangerous with the dust storm.

It is peak fire season here right now, but it does not last long usually as we start to get the wet season rains in October. We had a hot and humid day the other day, with some rain at the end of it, but not much!Hope you start to get some warmth and sunshine soon Paula.


• Australia
23 Sep 09
Im in Brisbane,and thd dust storm has hit here. i look outside and cant see that far and the win in blowing down the road and into the shop.Its madness here

• Gold Coast, Australia
23 Sep 09
Yeah, it is pretty crazy here too, I heard about the dust storms in Sydney earlier today when it was clear here...then it hit and is still getting worse. You can smell it everywhere, even indoors, that red outback dust!