Typhoon Ondoy: Picking Up the Pieces After Its Fury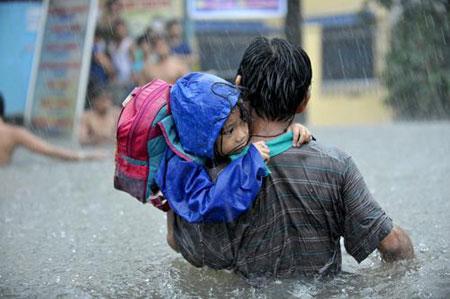 Philippines
September 29, 2009 11:07am CST
September 26, 2009... around 1:30 in the afternoon... I was having a late lunch with my husband and my son when the rain started pouring really hard. Then, the wind followed soon. When my husband stood up from the table, he noticed a puddle of water. Then, we realized that water was coming into the house. We did the next logical thing. Remove the furnitures and start mopping the floor. During that time, the rain and wind were making a horrible sound. Then the lights went out... It was almost 3:00. We had our trouble with the water temporarily fixed. My whole family endured the 12 straight hours of having no electricity and water until the next morning. I have no radio that doesn't need electricity to work. So, we didn't know what was happening outside our home. We just learned of the devastating news the next morning when the electricity was back. So many loss of life and property... This afternoon, when I made the trip back from the grocery store... I saw with my own eyes what the others had suffered. The houses that I used to pass by all those years, were not there anymore. I have passed by a small church that was submerged in muck, with a coffin inside. I learned that whoever was lying inside that coffin was one of those who lost their lives in the flashflood. And as I have watched the early evening news, there was a mother who's still looking for her young daughter. Her daughter was one of those who was swept away by the flashflood... Most of us, take life for granted. We're all so busy with what goes on with our lives. That we fail to realize that one day, we won't get that another chance of seeing our loved ones smile or laughter. I have my own problems. But compared to the problems of those who were directly hit by Typhoon Ondoy, my problems look so silly. I still have my husband and my two, sweet children with me, alive and breathing and safe. My parents, siblings, and other relatives are also safe. I pray that I will never have to go through what others are going through right now. Looking for their loved ones. Not knowing if they are still alive. Especially the parents... Especially the mother I've seen on tv.
3 responses

• Philippines
30 Sep 09
Yeah I am also one of those hit by the flash floods, but ours compared to others was very minor as compared to those that were badly hit by the flood. We were not expecting that it would happen to us. We have no experience that our place was ever flooded in the past two years that passed by. We have had strong rains like the ones we have last Saturday, but the difference was the flood that came. The volume of water was really high and our house were inundated by it. Luckily the damage was minimal despite our house were submerged in water for several hours. We were lucky no one was hurt or no life was spared from us. For that I cannot but thank the Lord for that.

• Philippines
30 Sep 09
Hello rsa..

Sometimes, I don't even want to watch the nightly news anymore. I couldn't help but cry when I see news of bodies being retrieved. Especially the bodies of small children. I can't imagine the magnitude of pain and loss of losing a loved one in a disaster like this. Having to watch helplessly a son or a daughter, a mother or a father, snatched away by the raging waters. The frustration of wanting so much to help them get out of the water... I've seen an exclusive video of a group of people being swept away by the water and being slammed under a tunnel. There were small children in that group. It was a very horrifying video to watch. People dying before your very eyes. Wanting to help them, but help is impossible. Having to watch helplessly to see them lose their lives, just like that.

• Philippines
30 Sep 09
Sometimes it is really horrifying to see the video footages taken. I never expected to see Metro Manila under water like this. We were placed in a situation that we are capable of helping but due to what was happening we felt how helpless we are at that time.

• Philippines
3 Oct 09
I saw an interview of a man who was crying as he narrated his horrifying experience. He saw a person being dragged away by the raging flood, and that person was waving his arms at the man. Pleading for help. The man could only look helplessly. As he was narrating his experience, he was also crying. He told the reporter that he wanted so much to pull the man out of the water and drag him to safety. But he knew that he couldn't do anything. The water was too fast. Help was impossible. And all he could do at the moment was to watch that person die before his very eyes. As I watched that news, I felt the man's horror. To see someone die like that knowing that they were pleading for you to save them.



• United States
29 Sep 09
THis is so sad adn hope that every one find everyone they are looking for alive! yup ya never know what will happen when you live in the path of such destruction. Thats why I always kissed my kids moring and night along with HUbby and always told them I loved them as ya never know. Its very devestating to walk up to where your house or trailer used to be and you look over the hill to find it all smashed to peices. with 100 foot trees laying over it all. and all you over 100year old trees pulled up by the roots just laying there. Happened to us in 91 in a F5 tornado when we lived in Tennessee.

• Philippines
30 Sep 09
Hello Lakota.. It is very sad indeed. I've seen in the news a man who had saved so much lives but was killed when a tree fell on him. His mother's happy that he's considered a hero. But then, she' still mourning a son that she has lost. I've only seen tornadoes in the movies. But I know the devastation it can make is just the same as the typhoons we're having here. It boils down to the same thing: loss of life and properties.


• Philippines
30 Sep 09
though we struggle and still yet we survive. even if others did not make it. but still we never loses faith. this time it is better to help one another and not think of who is the source of all this suffering. because it will always come back to us. because we never did took extra care for our environment. families loses some lives while others are still intact. and yet we never give up to live! just glad you and your family are fine. hope that this would over soon. unfortunately another tyhpoon is coming our way. i just hope it would not be as bad as ondoy is. jhelai

• Philippines
3 Oct 09
Hello jhelai. Fortunately, Pepeng wasn't that as destructive as Ondoy was. But still, there were fatalities reported. As for the aftermath of Ondoy... pointing fingers as who's to blame should not be the top priority. As what a news reporter have said. It's not important anymore to find out the real reason as to why a politician or a popular figure is reaching out a hand. What's important is that, the help is there. Questions should not be entertained anymore.