how do enjoy your school or college days.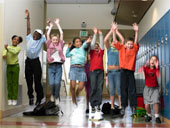 India
October 1, 2009 8:50pm CST
hi friends, how are you everybody. i enjoyed a lot in my school and colleage days. bunk the colleage go the exibition, movies, when i am in 10th std,we went to the place ooty that day i never forget in my life. we are four friends. we share to eachother. there is no secrects within us. there is no life without a friend. i am correct friends. how about your school and colleage life. share your comments. thankyou.
6 responses

• India
13 Oct 09
My school and college days were simply superb. Though we did not fall short in our studies, we also enjoyed our life there. I was also keenly taking part in drama, music and debate competitions and I had friends from different spheres. It was a festival at the time of school day and college day, and we used to wander to buy make-up things, drama dress etc. We had get togethers in each one's place every Saturday. That age was different, no botheration for anything, no responsibility, we were like flying birds, singing and dancing, thinking that the whole world is ours. I remember the telugu movie song 'snehabandhamu entha madhuramu, cheragipodu karagipodu jeevithanthamu' means friendship bond is so sweet and never fades life long. Am I correct Neelimagaru? There is a small poem in English. Dear friend please keep in mind That true friends are hard to find And when you find some one true Never change them for some one new. Cherish the friendship always.

• India
14 Oct 09
hi buchigaru, everytime you use to tell one story, how nice of you, in my days my grandmother use to tell all the stories. now i remember her. but, so is no more. thaknyou very much for your support, yeah, school and college won't come back. i am thinking why can't now enjoy like that. but, we can't/ little ristrictions na, thankyou for your response, have a nice day.

• India
12 Oct 09
Neelimagaru, Schooldays and college days are the most memorable days one cannot forget and get these days back. when we were in 10std we had bunk the school and we all our hang had been to the exhibition in school uniforms itself. In college also we had nicefun and we used to enjoy a lot, bunk the classes go out for indoor shopping, movies etc

• India
13 Oct 09
hi deepa, how are you dear, bunking college is very good fun, i also bunk college an go to movies, exibitions etc.... thankyou for your response,have a nice day.

• China
3 Oct 09
My college days came to the end half year ago!I really cherish the college days. How beautiful and pure days! In my college days, I also have 3 roomates, we live together and enjoy the life by each other. We went to the library together and study together. When we were in difficulty, we asked each other for help. We really encourage each other on our study.All of us study so hard during the end of semaster. Finishing the study everynight, we will gather together to enjoy some delicous snake near the school.As a result,We four,all got the good GPA and get the scholarship. After getting the scholarship, we will go to shopping together, spend some money to get the pretty cloth for each other, give advice to eachother. I really cherish the memory of those golden days!

• India
13 Oct 09
hi gohigh, nice to meet you friend, welldone that you got scholarship keep it up dear, yes you are right they are golden days, we can't get back. thankyou for your response, have a nice day.

• China
2 Oct 09
hello neelimaravi, the titile of your disucssion makes me think about my college life, it is unforgetable, but my college life was not as wonderful as yours, I guess, because I spent most of my time on the libary, search information and read books. But I do have some other memories, I make acquantance with many friends in the colleges, no too much thing to worry about! College life is cherishable. I think you should take more pictures in college so that in the future, you can recall the good memories.

• India
2 Oct 09
oh thankyou so much mybeatrice. hope you enjoyed a lot. yes ofcourse, college life is cherishable. thankyou thankyou.

• India
2 Oct 09
Hi neelimaravi.... I had always enjoyed my school days...those days are really unforgettable... hard to get it back...i always roam with my friends as soon a sthe school is over... we shop out and spend most of the time hanging out... my college is never less better than my school.. I am doing my final year now. So enjoying my life to the fullest at his time...i went to kerala (munnar) for my college tour..a funny experience with friends all around.Is that you have got a tamil name? are you a tamilian buddy?

• India
2 Oct 09
hi gowri nice to meet you. enjoy your college days. those days won't come forward. thanks for the response.

• China
2 Oct 09
hi, guys, this is my first post at mylot, I just log in and find some interesting topics to have a try. I choose your question, because I'm now a senior at colleage, so I am qualified to describe my own life now. There are six roommates in my dormitory, six guys, six wildly different type of characters, leading to a series of funny stories happening during the past three years. Our friendship develop among each picnic, game, travel, movie or even quarrel. Though we are from different part of China, the other ones' name have been embedded in the mind. When we part with each other and go back to each hometown, we will cherish this precious memories. In this modern society, we won't suffer a breakdown in communication, letters, emails and telephone will are the methods to keep contact, right? So I won't shed tears in the day coming about several weeks later, I do know it that I just have to start another journey!

• India
2 Oct 09
hi very happy to meet you and welcome to this thread. do enjoy how much you can, be a good student.enjoy enjoy enjoy..... thanks for the response.