A Beautiful Mind - Life isn't an Equation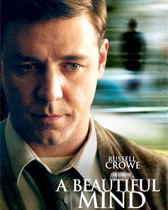 United States
October 13, 2009 7:43am CST
A Beautiful Mind is a truly beautiful movie, and it should not be missed by anyone of proper age to appreciate its beauty. It is about a schizophrenic mathematician name "John Nash", who spends all of his days trying to find a revolutionary discovery/formula that will change life. The irony, is that life doesn't work out if we try to solve it like an equation. It is only when we let go and let life happen to us that we will find our true happiness. The Beautiful Mind is an exaggerated tale of this law, and how terrible life can get if you try to solve its nonexistent formula. Jon Nash is an awkward man, not good in social situations, but an amazingly talented mathematician. He is so good, in face, that he spends most of his time trying to find a revolutionary discovery in mathematics. I like to think of it as a "Life formula", or a discovery that will never happen. The twist of the movie, which happens about halfway through, is that Nash is suffering from a severe form of schizophrenia, and half of the situations/places that exist in his life, are only part of his "beautiful" mind. One imaginary character that he creates is his roommate, Charles. Nash gets along very well with Charles, which makes the audience suspicious from the start, seeing that John Nash doesn't really get along well with anyone else. The other character that Nash creates is named Parcher, who is working to solve a conspiracy case of an atomic bomb threat towards the U.S. When the conspiracy situation goes wrong in Nash's head, that is when he is need of mental help. He is taken into a psychiatric hospital, and receives intense treatment, Upon returning home, the visions are suppressed, but so is every aspect of John Nash's beautiful mind. He no longer can think right, feel right, or act right. He stops taking the medication, and loses another battle with his schizophrenia. Instead of going back to the hospital, he tries to battle the hallucinations on his own. This is the turning point of the movie, where Nash learns how to really live his life. Nash learns that life is more than making a discovery, or solving an equation. There is love and emotion involved. A wife, taking care of your baby, and the everyday joys of life. Instead of focusing his time on himself, John decides to go back to teaching classes, and shares his amazing knowledge with his students. All this, while ignoring the characters that took over his mind. This is where an amazing inspirational quote is mentioned by John Nash, which I will mention here:"Are the hallucinations...gone?""No, but I've gotten used to ignoring them, and a result, they've kind of given up on me. I think that's sorta what it's like with dreams and nightmares. We've gotta keep feeding them for them to stay alive"That is one of the most true and inspirational quotes I have ever heard. Dreams will gradually disappear, if we do not focus on them, and take constant action towards them, Nightmares will continue, as long as we feed them our attention. John Nash wins a Nobel Peace Prize at the end of the movie, for his contribution to society. A Beautiful Mind is a movie about the importance of enjoying every day of life, and not getting caught up in ridiculous theories or fantasies for a future that may never be. If we don;t focus on the present moment, it may be the biggest regret in our life. Embrace life each day, don't embrace a fantasy world. Your thoughts on the movie?
3 responses

•
26 Oct 09
I like the film very much.Eight years ago when I first watched it I was more interested in his intelligence and his achievement. I was excited to know him as one of my respectable and favorite economist. This time when I watched this movie on BBC in midnight I was very saddened by the end of the movie that focuses on the relationship between he and his wife. People all know and understand the feeling of living with a schizophrenia patient. His wife struggled with it and at last did not give him up. She showed great bravery when she faced the difficulties in their marriage. Nash is a great man. His wife Alicia is more greater. Personally I think, without his wife he would not overcome his illness and reach the top of his career. A beautiful mind should not only be titled to Nash also to his wife.


• Philippines
13 Oct 09
I haven't seen the movie yet but what caught my attention in your topic is the attemtpt to reduce the meaning of life into a simple equation. That task will indeed be impossible. It's so rich and complex and the equation will have tons of missing factors. So profound that we can not fully understand in a lifetime. We can only approximate but not fully comprehend its depth. At the end of the day, life is to be lived and enjoyed to the fullest. Living in dreams and fantasies miss the point. Enjoy!