Old Chicken?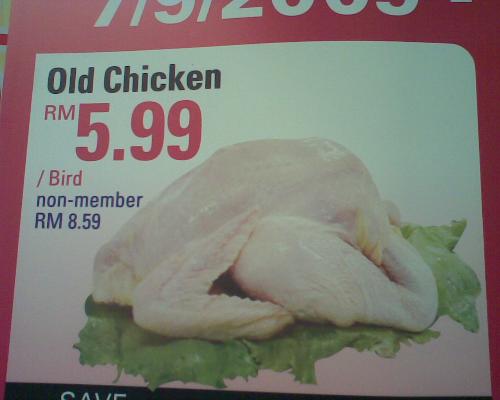 Malaysia
October 14, 2009 4:23am CST
In Malaysia,we always buy spring chicken from the market or supermarket. In the farm, when a chicken reaches a certain size and weight,it is sent to be slaughtered for the table. Normally it is less than a month. But there are also chicken that is not grown for the meat. They are free ranging chicken roaming in the village. Once they no longer lay eggs, they are also slaughtered and sold. We called these old chicken. They are tough and sinewy and you have to broil them to be able to eat its meat. Most cook them in curries or in soups. Do you have this type of chicken in your country?
3 responses

• Philippines
14 Oct 09
Yes, we do have old chicken here in the Philippines, pretty much the same practice. Spring chicken are normally used and they are tender but just to avoid wasting chickens that don't lay eggs anymore, they are slaughtered and cooked. It takes time to make them tender unless cooked in a pressure cooker. If not they are thinly sliced and mixed in soups just like what you said. They add flavor. enjoy

• Malaysia
14 Oct 09
Yes, most of these chicken will possibly be tenderized using a pressure cooker. Since old chicken are considered 'better quality' than meat chicken, they cost a lot more per 100 gm.I like the taste of these old chicken. I think their muscle, which is dark ,makes them tastier. Yes ,thinly sliced and made together in sandwiches are great too.

• Philippines
25 Feb 10
yeah we have them too . although ours are not for laying eggs. old chickens here are mostly male chickens cuz they are fighter chickens with very tough meat. they are used for sports and bet on. but when they get old and cant fight anymore they are slaughtered and eaten. we cook them for adobo. cuz you have to cook them for longer hours to be able to soften its meat

• Malaysia
15 Oct 09
Young spring chicken meat is tender. Old chicken meat is tough and sinewy. Nevertheless, we can have tender old chicken meat by adding tenderiser, a chemical. I heard that papaya is also a tenderiser but I cannot confirm. Another method is boil under high pressure as in factories making curry chicken. That is why all can curry chicken tastes the same.