Why we tell lie to others!!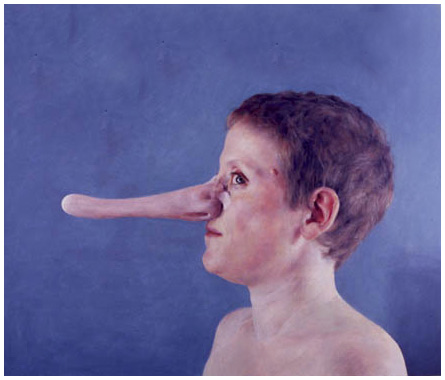 Bangladesh
October 14, 2009 10:35am CST
I sometimes tell my mother lie.just to go out with my boyfriend.can any one think at the end of the day how many times he or she tell lie to others? there are 7 days a week.if we target at least one day of the week, so that on the special day we will not tell a single lie, isn't it feel good to the person? may be we tell white lie sometimes unnecessarily. So what! can we make a special day guys!! just think every body, we tell one lie and our nose will grow 0.1 inch long.so that we could easily find a true liar!! and everybody will stop telling a lie!! the world will become just like a HEAVEN. Isn't it?
6 responses


• Bangladesh
15 Oct 09
Mohan, hahahahaha it is really funny.thanks for your poem.after a long time I have heard this.No body is perfect. but we can try our best to be perfect.Its our honesty.We can do the right thing if we try from our soul.

• India
14 Oct 09
We generally tell lies to hide our mistakes or not to get scolding by others.Generally many do it for themselves, They are called selfish people.And yes your idea of growing of nose is nice but practically impossible.

• Bangladesh
15 Oct 09
manawarangal, i know growing nose is impossible.but think positively.It is a better idea.Isn't it! It will prevent ourselves from doing mistakes.At least take my suggestion.Don't do any mistake in one day of the week.thanks.

• Philippines
14 Oct 09
hi there, Lying is not utterly bad.although the world will be a better place if people will have the decency to be honest with their dealings.

• Bangladesh
15 Oct 09
Jesseverette, tell me where to find the honesty? the whole world becomes darker with the untrusted people.Only a few of honest people are left. The most powerful people are now share "Say Yes To War and No to Peace." Right?

• Malaysia
14 Oct 09
Well smilenuzhat, it's depends on the situation.What are we lying for?.It's bad behaviour when you always speak the untrue things.Sometimes we must lying if we in dangerous situation and need to lying to escape.However lying it's not the best solution in all matters.

• Bangladesh
15 Oct 09
John i think we can tell lie only in the life threatening situation.Else no matter what happened speaking truth should be done.Life is so beautiful to me. Only we can maintain it smoothly....what do you think?

• India
14 Oct 09
I don't think there will any world without lies at all,that what we are but different some lies are done with evil intention and some with a good intention for a reason.I think to avoid any trouble we tell lies, well i think no one or person in this world who don't lie, even myself included but we do it for a particular reason. without lie it would not be fun at all and sometime on doing more lies it is truly be bad, i really dont like a lier myself who cheat people.

• Bangladesh
15 Oct 09
Fireheart, it is true that without lie it would not be fun.Actually it is okay sometimes. But i hate when people say a lie only for money, only for power.They want more power, more money , tell more lie, do injustice to other fellow people.I hate them.Why people can't be happy with a reasonable lifestyle?


• Bangladesh
14 Oct 09
We all know honesty is the best policy.But is it really works Craicha? Why we cant stop this LIE? We are taught from our childhood that Don't tell a lie. but we can not follow this at all.thank you so much for your honest opinion.keep it up dear!!