Batman and her logo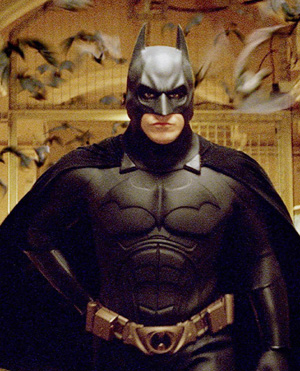 Indonesia
5 responses

• India
30 Oct 09
Batman needs a lot of time dressing up, and putting a 'B' everytime means some headache. On the other hand, superman has to just pull out his over-cloths.. and an "S' makes it easier for him to remember his current persona.

• Shingle Springs, California
30 Oct 09
Batman assumes everybody knows who he is, but Superman is insecure?

• Omagh, Northern Ireland
26 Oct 09
Batman has never needed a Letter "B" on his costume as the Symbol of the Bat he wears is Distinctively evocative and unique,and has been and will be all the Identification He'd ever likely need..Any Extra lettering would probably be superfluous for Him..

• United States
19 Oct 09

Since Batman dresses to resemble a bat, perhaps he needs no symbol to help explain who he is and what he represents. On the other hand, superman is not patterned after a thing we are familiar with, so to help identify him in the mind of fans, he uses the bid "S" on the front of his costume. That is my guess. Karen

•
18 Oct 09
I believe if I understand your question, that you are asking why does Batman not have a B on his costume when Superman has a S on his? If I am right then I think the answer is probably fairly simple...Batman is a symbol and so is the bat, in one of the early batman films Bruce Wayne says that he was once scared of bats as a child, he wants gothams villians to feel that same fear of the bat in him. In the latest batman film batman is discussed as a symbol...and it is further highlighted by the large torch used to call batman in that it is not a B but a flying bat symbol. Hope that helps:)