McAfee site advissor says ther is a bug in mylot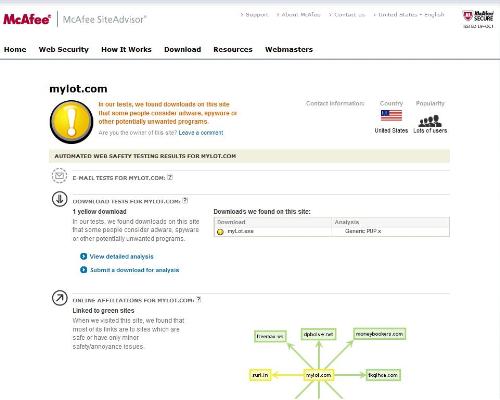 India
October 19, 2009 10:17am CST
today i noticed that mylot site is shown in yellow color on my firefox browser, i mean at the right bottom corner, the mcAfee site adviser is shown in yellow color, and when i clicked on it's shown me a message regarding some exe, please check the pic attached and comment on it ....
3 responses

• United States
19 Oct 09
Thanks for the heads up! I'm not to worried about it and I'm sure others aren't either, we normally don't download anything form this site. at least I never have in the 14 months I've been here. Plus I have a great system for catching those pesky things. I used to use Mcafee and got that kind of stuff all the time so I got rid of it! It was annoying and I went to other spyware free programs and haven't had a problem in over 10 years, I'm a power user and just lucky I guess! You might want to send a copy to the admin here, See what they say LOL! if anything they don't usually respond to much here! Good Luck!

tdemex

• India
19 Oct 09
thanks for your time , but the thing is ... it is not about downloading any thing from here , the problem may be sending your personal information to some one else which may lead us to the problem, i am also very old member of mylot, and today first time i saw this problem , hope it will be taken care by mylot team...

• United States
19 Oct 09
In order for an EXE. file to execute it has to be downloaded on my computer! Right? I don't have anything here that I worry about! LOL! Mylot is all over the net anyway, I see it come up on searches all the time! But as I said thanks for the heads up! T---

• Indonesia
19 Oct 09
I use Avira, but that's doesn't show me any warning from the site. The AV work fine with some compress or exe files, and I guess nothing to worry probably need to re-diagnostic.

• United States
19 Oct 09
i said this last week after trying to get on over the weekend norton shut down the site on me for finding a trojan every time i tried to get on mylot, but of course the powers that be will not tell us anything; perheps thats why mylot is going downhill quickly