Palmbux problems on paypal and alertpay, anybody knows about that?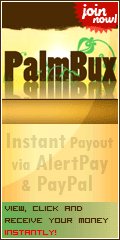 Philippines
October 20, 2009 12:45pm CST
I visited the palmbux site just now and it says there that they are encountering some complains from members. Seems like they (members) filed complain against palmbux managment regarding referrals and membership. They also said that they will suspend those who filed complians from paypal and alertpay for they received what they bought...and in order for them to continue with their membership they must close that filed complain. Anybody know about this matter? I would love to hear from you. Any update please.
3 responses

• Malaysia
20 Oct 09
I try to log in a while ago but was not able to. I to received the message from them. I think their accounts are being suspended from too many complaints to Paypal and Alertpay. It will be a shame if they close down because I have received a few payments from them instantly. There may be some doubts about their rent referrals but then again, Neobux has the same problems too.

• Philippines
21 Oct 09
i dont have any problem with my paypal everytime i requested for cashout either in palmbux and neobux. though in palmbux i need to wait 4 days before i can request for my next cashout but its ok as long as they will pay me instantly.

• Philippines
21 Oct 09
Hi homeshoppers! I think the issue is not about the cashing out, it is about the disputes that some members filed to alertpay and paypal against palmbux. I think they bought referrals and/or membership packages. I don't really know the real story but seems to me that members wanted a refund but palmbux denied their request because they claimed that the items purchased have been delivered and received already.

• India
21 Oct 09
Not sure of the problem. But as the site was not on line yesterday, the members who have paid for referrals or membership packages might have thought of this site as scam as like the other did. After that they might have opened some dispute with the paypal and alertpay against the palmbux. As the site is not online, the site is responsible for the money they received and paypal and alertpay might have sent all the disputes to the site.That's why they got tensed...now the site is online again..Let us see what is going to happen in near future..

• Philippines
21 Oct 09
I hope the issues their going thru be fixed. I love palmbux and it will be a great disappointment if they turn out to be what other members are beginning to think...Yes palmbux is online already.