Do you think "We All Have A Purpose In Life?"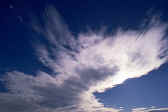 United States
October 23, 2009 8:17am CST
What do you think your purpose is? Do you think you choose it yourself or it was chosen for you? I mean do you think it was your "Destiny" or did your "Actions" put you there? Do you think

(we evolved, was put here, or how ever we got here, many believe different, to me it is their choice to) with a reason to be alive already, to find our reason, to find the path to our own "Destiny"?

I've heard many things, seen many, just would Love

to know your opinion.
10 responses

• United States
23 Oct 09
I think we were all created to do something with our lives. I think that we are all put here to decide if we love God enough to serve Him! I think we will all some day have to make a choice for God or against God. I don't believe we evolve I believe that we were all created by God and someday we will all be back with God.

• United States
23 Oct 09
Cool I know we all have different beliefs, but to me why would someone create to see if someone was worthy to serve? I have alot of questions, I mean I believe in God, I just don't understand alot of things about him. Like one is if we are Loved, shouldn't we deserve a second, ect chance? Satan as said got one to corrupt our soals as stated? Why should he, when supposly tried to take over Heaven and ones who just try to be kind, spread love without going to church, or worship one God, shouldn't? This is just one of them.

I am not trying to knock anyone or their choice, just my own misunderstanding or maybe the way I think should be right for me and others that want it to be. What I am saying is I don't think someone should be scared or made to serve. I think we should have a choice, and the choice not to be if not you will Burn in Hell

• United States
24 Oct 09
If you want to learn more about God you could listen to Shepherd's Chapel and if you can't get them on the TV you can get them on the Internet at www.shepherdschapel.com you might learn something from watching to this preacher we listen to him all the time. And we have learned so much from this preacher. Good luck.


• Philippines
24 Oct 09
we are chosen to be alive inhere because there is a purpose for us. There are so many purpose that the God made us to be alive. since we need to handle it, give back in return all the blessings and of what we are today to the needy. try to share the knowledge we have, thanks of what we have in life for God will choose us to be His follower and we should thank Him for all of this.

• China
24 Oct 09
i am a girl who has a purpose in my life,because i think life is so beautiful,i want to be another me,i want a different life,so having goals is important for my life!i want to change for my dreams.as for destiny,i just believe in destiny of love,lol!

• United States
25 Oct 09
WOW You are Very Beautiful.. I admire your dreams and goals

For yes you are Very Right Life is Beautiful.. I am learning that making changes and making yourself better at all times is also Beautiful, I solute you

Keep up the Great Work, Keep me posted on how are you as well!!!

• Philippines
24 Oct 09
Hi tandmunlimited, Well,For me No,Because i believe that God has chosen the right way for me.If you only choose it by your self,you will do every thing you want just to be happy.But if God's chosen, you will love to obey his commandments,To serve and worship him for the rest of your life.I don't believe in destiny,we must work hard for our goals,to achieve.Good lUck.and more power!

• United States
25 Oct 09
Thank you I agree with you we must work hard to to achieve our goals, I am still unsure and uncertain about the rest.. I hope I have time to figure it out for myself

• Philippines
24 Oct 09
Yes, for me, the reason we are born is because we have a purpose in life. Nobody can grasp about the purpose but God will just lead us thru. Sometimes we will just notice that the life we have now is not the life that we planned before, the reason, that is not the right one for us. The life we planned was not the right way for us for His purpose. God has a purpose why He brought us to the life we have now. It maybe to realize something or to know more about life or simply to know the value of everything that we have. To thank and think that we are blessed by God.

• Philippines
24 Oct 09
we all have different purpose in life here on earth.but God wants us to listen in our heart's desire to find it.God created us to enjoy the life He gave us and to use it positively.

• United States
13 Nov 09
Thank you sheramol0121 I appericate the response... You have a Blessed Day

• India
23 Oct 09
All people who have come is this world have a purpose and that purpose we have to find it ourself.God will only show the path but we have to find our Destiny and act on it.

• United States
23 Oct 09

That is a neat way to express your belief. Thank you..

• Indonesia
23 Oct 09
I think,maybe there is not all people have a purpose in life.Some of them just walk on because life for them is destiny as you told.I believe to destiny but God does not sleep to see our action to make our life more better.We must have a dream and keep fight to make the dream come true.I want happy family,better life and happy ending.

• United States
23 Oct 09
Cool your thoughts are very nice, and having a happy family, better life and happy ending would be very wonderful..


• Philippines
23 Oct 09
Certainly there is, all of us have a purpose in life, you choosen your destiny but it depends if God's permits it, at the first place we have to worship God, thats why we here for.

• United States
23 Oct 09

Thank you for your response.. I think we all do too.. I am glad we all are able to express ourselves here.. Have an Awesome Day

•
23 Oct 09
I believe that we are all sons and daughters of God. He loves us very much; each of us has a special purpose here on earth. I believe that through prayer, we can find our divine purpose. God always answers our prayers, it may not be in the manner we expect or the time frame we hope for, but He always answers. It is my belief that we were foreordained (given the opportunity but still given the choice to accept) to various "callings." However, our actions here on earth, whether righteous or unrighteous, will determine our future, not only here upon this earth but after we have departed from this life.

• United States
24 Oct 09
Hi thank you for your response

Your thoughts are very greatly appericated