The mountains

United States
October 25, 2009 6:47pm CST
I spendt the day in the mountains looking at the changing leaves. What about you? Do you go anywhere to view leaves in the fall? There are a lot of good places to view and it seems like the mountains are the best places.
5 responses


• United States
26 Oct 09
where I live is actually surrounded by trees, but the mountains are really neat to see also. The only thing is that I think the leaves were actually past their prime as there were a lot of brown ones. We had some really cold weather a couple of weeks ago and it was probably below freezing in the mountains and probably killled the leaves.

•
22 Nov 09
Hi, Yes I go to the highlands of the city, where I live and in the parks too. I always take my digital camera with me to take a picture of this beautiful autumn event. I love to look on the yellow carpet, that covers the ground and the children, that are playing over it.

• United States
24 Nov 09
The leaves are all almost on the ground here. We have had a lot of frosty weather and it is now late in the fall. I miss the beautiful color of the leaves that we had a few weeks ago. I guess they are gone until next fall.

• United States
26 Nov 09
I don't have to go anywhere. Sacramento (where I live) is called the city of trees. We have lots of trees.

• United States
26 Oct 09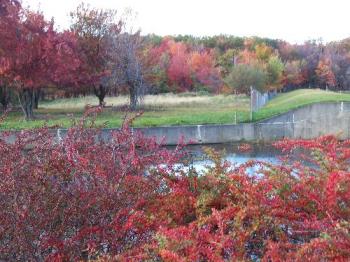 Hi Snowy, I now have the pleasure of living in the mountains here in the Poconos of Pennsylvania. My husband and I just recently bought a house here. The colors this year were absolutely beautiful! At least they were before we got 4 1/2 inches of snow on Oct. 15th. The weekend before we had the snow, I had my niece up here with her children for the weekend and we went to one of the near by lakes to play at the beach and the play ground. We took some great pictures of the colors and had a really great day! I am a nature lover and this is one of the most beautiful times of the year with all the wonders of the colors! Here is one of my favorite pictures I took at the lake that day. There is a small dam at the end of the lake and this is just beyond the dam. The water flows into a stream that continues winding through the mountain and was just a beautiful sight. I Hope you and your readers enjoy it.