attractive voice means a good mate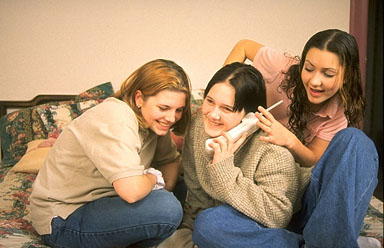 Canada
October 27, 2009 3:53am CST
...as a CSR, i usually take hundred calls aday. listening to a customers gives me a clue to there physical characteristics. sometimes listening to their voice can tip me off not just how people look, but sometimes their level of sexuality as well....ok here's a tip for you: GIRLS; an attractive voice of a men is correlated with a higher shoulder-to-hip ratio meaning broad shoulders, narrow waist. i believe for men, like me, testosterone influences both voice and physical development, a man's deep baritone voice can indicate more muscle mass and strenght. BOYS; an attractive voice of a women is correlated with waist-to-hip ratio, meaning waist narrower than hips... i think the reason is their estrogen and progesterone influence their voice, as well as their body dimension, w/c can indicate their reproductive status....what say you to my intuition?
4 responses

• Philippines
28 Oct 09
i dont have any experience like you have, and i am not much of a talking person. i am a musician and this line of work i meet a lot of people everyday. i am married also to a professional singer and her speaking voice is so low that you will not expect that she can sing high notes song. i am not good on determining from voice but your input is something cool to learn.

• Philippines
28 Oct 09
you sound like you are shock. har har har. my wife no longer sings to bad, for she wanted to be a full time mom to our child. thats not to bad at all, but to see a good talent go to rest. well you can not have it all the time. i love that she wanted to be a full time mom but it breaks my heart to see her singing career at rest.

• Philippines
27 Oct 09
I don't think that's really accurate. I know of a lot of Djs who sound great on the radio or the phone only to look "off" the expected features. I think it's actually the opposite. There are girls with great voices and could even sing but we (because I'm one of them) are actually heavy.

I tell you, it's different when you truly meet people from their voice, photos or even webcam images.

• United States
8 Dec 09
An attractive voice is the one thing that turns me on, because if a girl starts moaning and she sounds like a man that would definitely turn me off yanno lol? My girlfriend has a truly amazing voice she knows how to move her body and sound dirty but still sexy at the same time she orders me to go faster and she will sometime yell out f me harder baby in her sexy little voice it truly is amazing and for most guys it is the number one turnon for them if the girl has a sexy voice.

• United Kingdom
28 Oct 09
I do disagree with you. When a first spoke to my ex over the phone, (i'm not a homophobic!) he sounded a bit gay. (Really no offence!) I was wondering what i was getting myself into really. His voice wasn't at all attractive, however my current, had a nice deep manly voice, and well, hes not overweight, just big boned. He's got a big posture etc. Though definitely my ex is physically stronger then my current.