I have resident chipmunks!!

United States
October 28, 2009 9:34am CST
I've always thought chipmunks were incredibly cute. I'm so excited this morning when i woke up and while sitting on my back porch saw a few chipmunks running around. It appears as thought they have a nest (or whatever you call a chipmunk dwelling) in my backyard. They are in high gear getting bedding for the winter. I wish I could help them out by picking up about 1000 pine needles and putting them closer to their nest, but I'm sure it would scare them so I'll just let them do the pine needle marathon. They're so cute! Do you have any woodland creatures in your yard?
1 response

• Hartford, Connecticut
28 Oct 09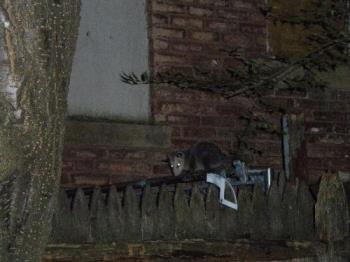 I don't have any that Reside in my yard.. Squirrels live close by but would be foolish to actually roost in my yard. But we do get the occasional visitor from time to time.. Skunks.. I can not count how many times i have had to deskunk my dogs in the last few years.. and once a raccoon I saw roosting in my tree. I don't think he was too happy with being caught in the city upon sunrise.. And the occasional opossum. Here is a photo of one little one that my dogs quickly chased up onto the fence and it promptly FROZE there until I took them back in!