Grooms Side.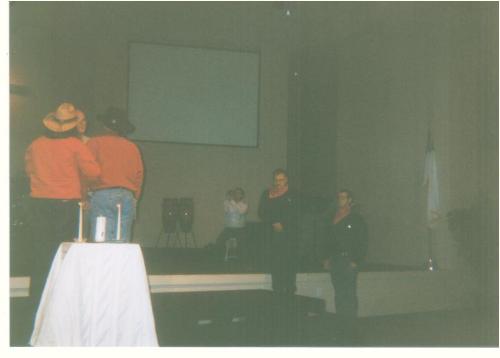 United States
October 29, 2009 12:06pm CST
I know there are mylotters out there who wanted to see pictures of mine and my wives wedding and my wife has already posted a few discussions with pictures and I think I will start with saying that it was a really nice wedding,and we only had two people on each side of the wedding party,on my side,I had my father as my best man which even though he claims he did not know,made him happy,and then a guy who is like my brother to me was my groomsman and I was so happy that he was part of the wedding,and I know he was happy too,because we have been through a lot together through the years,and no matter what happens we always have each others backs,I uploaded the picture and they are the two in black so let me know what you think of this photo,Happy mylotting.
1 response

• United States
29 Oct 09
It was a very special day and I think that everyone enjoyed being at our wedding. I really liked the way the video turned out, but we didn't get many pictures of my dad's side, and your mom's and father's side respectfully. We should have expected that though.

• United States
29 Oct 09
I think most people enjoyed it even though some did not act like it lol,and yeah the video was great and it was real professional even though we paid the man in Cokes lol and I do not think were too surprised at the picture ratio among families,thanks for responding,I love you.

• United States
2 Nov 09
Yea in cokes, though it doesn't matter we don't drink cokes that often, lol... We're not a fan really! lol, but yes, and we thanked him but he said no need to.

• United States
3 Nov 09
Yeah we do not drink Coke a lot,but he apparently loved Coke,and I know he was so nice he did not want any thanks,he was just happy to do it,and he is a nice guy,I love you.