Aloe vera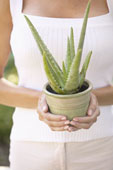 India
October 29, 2009 7:57pm CST
Aloe vera (Aloe Barbadensis Miller) is a herb that every garden should have. It is easy to grow and is a handy herb for so many ailments. What do you know about this herb?
2 responses

• United States
30 Oct 09
I just got a large aloe plant from my uncle and I love it. I have eczema and I am finding that aloe really help with it. I actually have been using a aloe lotion to shave my legs and it has made a world of a difference.

• India
30 Oct 09
It is known as miracle plant and when used in its orginal form it shows excellent results when compared to commercial products that are available in the market which have additives.

• United States
30 Oct 09
True, once the additives are in the product it does take away from the natural healing products. Do you think there is a way to take the aloe from the plant to use it for shaving? Have you ever made your own lotions or anything like that?

• India
30 Oct 09
No. I have not made any lotions but I use the sap without adding anything - the pure stuff. The leaf should be cut into pieces and kept in the fridge cling wrapped and you can take as many pieces that you wish to, slit them and take out the sap. It works wonders. I too have been drinking aloe vera juice of a particular company. I used to even distribute their products but dont do it anymore.


• Philippines
30 Oct 09
My grandmother used to rub it in her scalp prior to taking a bath. It works effectively with her. She 80 years old then but not a single thread of white hair. My mother used to do it too, but when all kinds of shampoo commercials adds came pouring on TVs and billboards, she had switched the use of it.

• India
30 Oct 09
Nothing like original juice/sap from a plant that grows in your garden.